Recipe For Health
Greek Yogurt Pan Sauce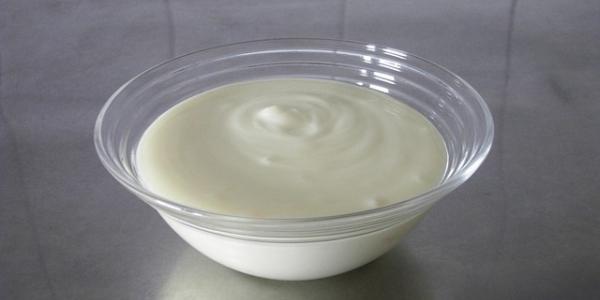 Jill Yarbrough, Dining Services Test Kitchen Manager
Ingredients
2 T. Olive Oil
¼ c. small diced shallots
1 T. minced garlic
¼ c. white wine
1 c. chicken broth
12 oz. can artichoke hearts, drained and quartered
½ lemon, juiced and zested
8 oz. low fat Greek yogurt
2 T. chopped fresh oregano
salt and pepper to taste
Preparation
Heat a sauce pan over medium heat, add olive oil and warm. Add shallots and sauté for three to four minutes making sure not to brown them. Add garlic and sauté for an additional minute.
Deglaze pan with white wine, add chicken broth and simmer until reduced by half. Add artichoke hearts and lemon juice, then heat for two minutes. Remove from heat and stir in the yogurt to make up the sauce. Add fresh oregano and zest from lemon; add salt and pepper to taste.
*Serve sauce with a pan-seared chicken breast, pork cutlet or turkey scallopini.
Learn More About Greek Yogurt
Nice at twice the price? You'll have to decide.
A quick peek in the dairy case will show you that Greek yogurt has become wildly popular. There are many brands, flavors and varieties from which to choose. Consumers love it for its smooth, creamy texture and its rich, satisfying flavor that is less tangy than regular yogurt. Greek yogurt, technically strained yogurt, is a concentrated form of regular yogurt giving Greek yogurt its other big selling feature—twice the protein.
Regular or American-style yogurt is made by fermenting milk with live bacteria cultures. Yogurt is really quite easy to make:
• Heat milk for 10 minutes at 195°F or 30 minutes at 185°F.
• Remove the pan from the heat and cool to around 100°F.
• Stir in the yogurt culture (a spoonful of plain yogurt).
• Cover and sit the pan on a heating pad on low or medium heat for 6 to 10 hours or overnight.
The bacteria from the yogurt culture use the lactose (milk sugar) for energy, producing an acid environment, and causing the milk protein to form curds. You will notice a liquid has formed on the surface. This is the watery part of milk which contains the whey protein. In your pan, you will see milk's two protein classes: curds and whey. Little Miss Muffet would be proud!
To make Greek-style yogurt:
• Line a mesh strainer with coffee filters or cheesecloth or a sanitized kitchen towel.
• Spoon homemade or plain commercially-made yogurt into the lined strainer (do not use yogurt that contains stabilizers such as starches, gelatin or gums).
• Set the strainer over a bowl.
• Cover with plastic wrap and refrigerate for 10 to 12 hours.
About half of the original volume will strain into the bowl. This is the whey-containing liquid which can be used in baking or discarded.
Now you know why Greek yogurt is twice the price.
Peggy Crum MA, RD
Featured Recipes
More Food and Nutrition Recipes