Cooking and Eating the Mediterranean Way
The Mediterranean Way
Cooking and Eating the Mediterranean Way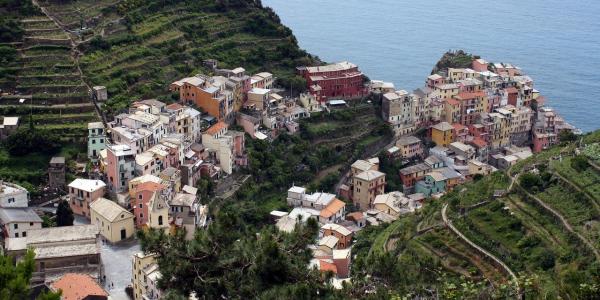 In the countries of the Mediterranean there exists a deep-seated and largely unspoken consensus that eating is one of the most important things we humans do in our lives.—Nancy Harmon Jenkins
Experts agree: there's something about the food in the Mediterranean region of the world that promotes health. In the past few years, we've come to call it the Mediterranean diet.
But what does that mean? There's "diet" as in culture or tradition meaning the foods people of a region eat. And then there's "a diet" as in changes you need to make--some foods are encouraged or advised or prescribed while others are limited or banned because of a medical condition or to try to lose weight.
As the Mediterranean diet has become more popular, the emphasis has shifted from "diet" as part of lifestyle to "a diet" in the prescriptive sense. After all, people want to know just what their doctors are asking them to do.
The Mediterranean diet came to light for me when I visited The Cinque Terre in Northern Italy. The five quaint towns lined up along the coast of the Mediterranean Sea are accessible only by train or ferry boat. To get around, you take a train or walk. I hiked the path that connects Manarola to Corniglia and then on to Vernassa. The trek provided sweeping views of the Sea while, on land, I was surrounded by vineyards, lemon groves, and olive trees. Every home had a substantial garden. Rosemary bushes dotted the landscape. Basil plants were larger than I had imagined possible. Ah, this is the Mediterranean diet.
That evening, we sipped wine and dined on the catch-of-the-day in a harbor-side restaurant. While leisurely dining was a vacation mindset for me and my traveling companions, it's a way of life for the residents of the Mediterranean region. Good tasting, high quality food is a priority, central to everyone's life. Simplicity is at its core. Excellent ingredients are valued. Flavor is of utmost importance.
It was their approach to eating that stood out to me. Taking the time to savor and enjoy is such an integral part of their lifestyle. More of a Mediterranean way than a Mediterranean diet. I had to wonder if this is the secret health-boosting ingredient we're trying to find.
The Research
The notion of a Mediterranean diet first came about when Ancel Keys and his co-investigators from throughout the world conducted an observational study called The Seven Countries Study. Their findings were published in 1970. They noted the health benefits of the food consumption patterns and lifestyle of the inhabitants of Crete, one of the Greek islands in the Mediterranean Sea. The residents of Crete had the lowest cholesterol, had less heart disease, and lived longer than people in other regions of the world. This despite a high fat intake.
To bring information about their discoveries to the general public, Dr. Keys and his wife Margaret Keys co-authored a cookbook titled, to my delight, How to Eat Well and Stay Well the Mediterranean Way.
Since then, to say there have been many studies and publications on the Mediterranean diet would be an understatement. Most recently, a Spanish study called the PREDIMED trial with nearly 7500 participants at risk for heart disease took place from 2003 to 2009. A true experiment, the study has reported some pretty convincing evidence about the Mediterranean diet when supplemented with olive oil or nuts.
The PREDIMED trial informed us about the foods of the Mediterranean diet but nothing about the ways of eating and enjoying them. Beyond the specific foods, awareness of how you feel is an important part of eating, no matter which region of the world you're living. It is the very definition of eating well. In my work, I help people learn how to notice what their body is telling them by using mindful eating in their daily lives. This approach is helpful in allowing you to choose the food you want to eat, to eat it, and to get enough of it. I stay away from telling people what to eat or how much to eat or shaming them in any way for their food choices. Your body has the ability to guide your food choices and your eating of the foods you choose.
For more information on recent studies, I have written a summary article with links to many research publications.
Building Blocks of the Mediterranean Food Pattern

Let's embark on this series with the understanding that I will provide information to reassure you about your food choices. The Mediterranean diet is not rules-based. It is a way of eating that brings pleasure and nourishment. If this is not your pleasure or your way of nourishing, reconsider your motives for doing this. It may not be for you, or it may not be for you right now. Take hold of the parts, if any, that are possible and let the rest go. If or when you're ready, come back and learn more.
In this series, I will help you take a look at each ingredient group for what most cooks, researchers, and connoisseurs agree are the building blocks of the Mediterranean way of eating. Keep in mind that no one food or group of foods has all the nutrients you need. The Mediterranean way is a food pattern. Choosing foods from many of these groups will serve you well, allow you to have a pleasant eating experience, and help you feel satisfied from one meal to the next.
Listed here as if they could stand alone are the food groups of the Mediterranean diet. In reality, foods or food groups are rarely singled out. A food from one of the various groups becomes an ingredient in a mixed dish, or sits at the center of the plate enhanced by vinaigrette, sauce, or other foods—to make it a meal.
• Olive Oil
• Tree Nuts and Peanuts
• Fruits
• Vegetables, Herbs, and Spices
• Legumes (Pulses)
• Grains and Starchy Vegetables
• Fish
• Alcohol
• Dairy Foods
Health-promoting properties are not unique to foods from the Mediterranean region of the world. I hope you will consider the Mediterranean way of cooking and eating to be a flavorful and lively model for what is possible with your own regional foods. And don't forget the key ingredient: unabashed enjoyment!
Related Articles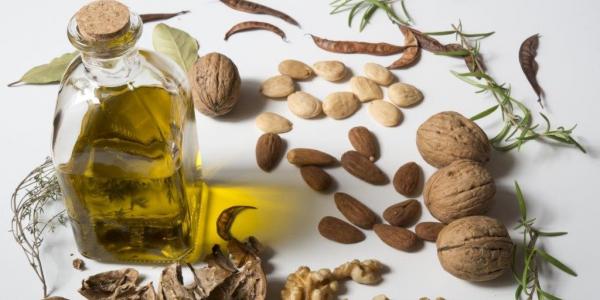 The Mediterranean Way
Here's a summary of some of the science supporting the Mediterranean diet including lots of links for further reading as you please.
More Food and Nutrition Articles