Eating for well-being
Ayesh al Saraya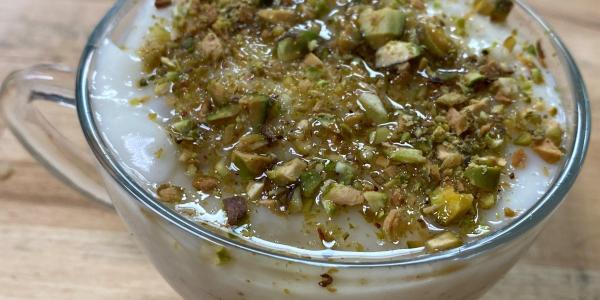 Chef Rob Trufant, Kellogg Catering
Featured Food: pistachios Yield: 4 servings
Ingredients
Ingredients & prep work for toast:
White Bread – cut into rounds size of serving glass or jar – lightly toasted until dry – 8 each
Ingredients & prep work for syrup:
Syrup:
Sugar – 2 cups
Water – 1 ½ cup
Lemon Juice/Zest – ½ lemon
Rosewater – 2 Tbsp.
Ingredients & prep work for cream:
Half and half -1 pint
Sugar – ½ cup
Cornstarch – 1/6 cup
Flour – 1/6 cup
Ingredients & prep work for top:
Pistachios – ground/chopped – ½ cup
Preparation
1. Prepare Bread Rounds – 2 per portion – placed on rimmed tray
2. Prepare Syrup by boiling water and sugar until dissolved. Add Lemon Juice and zest and cook until light golden in color. Remove from heat, cool, and add rosewater. Drizzle ½ over bread rounds to soak up syrup. Reserve other half for serving.
3. Prepare Cream by combining all ingredients in a small saucepan and whisking well. Place over medium heat and cook gently, whisking frequently, until cooked and a thick, almost yogurt like consistency
4. To build, line up four glasses or jars. Place a small amount of cream in the bottom of each glass. Top with a bread round. Top each round with a couple ounces of cream, tapping glass to settle. Sprinkle with pistachios. Top with another bread round and repeat with cream, tapping, and pistachios. Let chill overnight. Serve with syrup for drizzling as desired.
5. Enjoy!
Featured Recipes
More Food and Nutrition Recipes