Recipe For Health
Bok Choy Slaw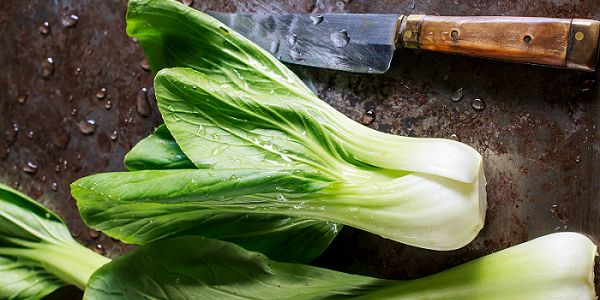 by Corporate Chef Kurt Kwiatkowski
Ingredients
½ oz. (1 small sheet) dried kelp
3 star anise
½ c. coconut milk
½ c. rice wine vinegar
1 lb. bok choy, thinly sliced (about 6 cups)
1 serrano pepper, diced with seeds
½ c. red onion, thinly sliced
¼ c. red pepper, thinly sliced
¼ t. black pepper
2 T. fresh tarragon, chopped
Salt to taste
Preparation
Rinse off the kelp very well to slightly soften it, then place it in a small bowl, cover with water, and let sit in water for 2 hours.
While kelp is soaking, in a non-stick pan lightly toast the star anise. Add coconut milk and vinegar and let steep for 20 minutes at a medium low temperature. Remove star anise and discard. Set liquid aside to cool.
Remove kelp from the water and thinly slice into 2" long strips. In a medium bowl, combine kelp, bok choy, serrano pepper, and cooled liquid. Refrigerate overnight.
Remove mixture from the refrigerator and add red onion, red pepper, black pepper, and tarragon. Taste before adding salt. Adjust seasoning with salt and pepper as needed.
Learn More About Bok Choy
Bok choy, pak choi, bok choi—no matter how you spell it, this non-heading cabbage is a staple of Asian cuisine. While it is not wrong to call it Chinese cabbage, the term is usually reserved for the crinkly-leafed heads of Napa cabbage. Both Napa cabbage and bok choy are Asian greens in the larger cabbage family. Bunches of bok choy have thick white or light green upright stalks with smooth dark green leaves. Harvested in its many stages of development, baby bok choy are truly just underdeveloped plants.
Bok choy tastes lightly sweet with a very mild mustard flavor and features a crisp texture. Look for firm stalks and crispy leaves that are dark green, not yellow or brown-spotted. Avoid extra-large bunches as they are harvested late and tend to have spongy or woody stems. Store in a plastic bag in the refrigerator for no more than 3 days.
The beauty of bok choy is that it is so simple to prepare. Smaller bunches can be washed whole and drained upside down on a kitchen towel. For larger bunches, cut off the base and separate the stalks then wash and drain.

Next, cut bunches, or stacks of loose leaves, lengthwise from the top to the base giving you equal halves. For larger leaves, cut lengthwise again to give you quarters or cut across into thick slices. Next heat a wok or wide pan, add 1 to 2 tablespoons of peanut oil and heat until smoking. Add minced ginger and garlic, then the bok choy. Cook until the stems are tender and the leaves are wilted, just 2 to 3 minutes. No need to add liquid as this vegetable has a lot of water that is released in cooking. This dish is traditionally finished with a dash of sesame oil, soy sauce or salt, and a pinch of sugar.

The other beauty of bok choy is its attractive green and white colors, perfectly suited for Spartan country!

Peggy Crum MA, RD
Featured Recipes
More Food and Nutrition Recipes