Braised Buffalo with Pan Sauce
Eating for well-being
Braised Buffalo with Pan Sauce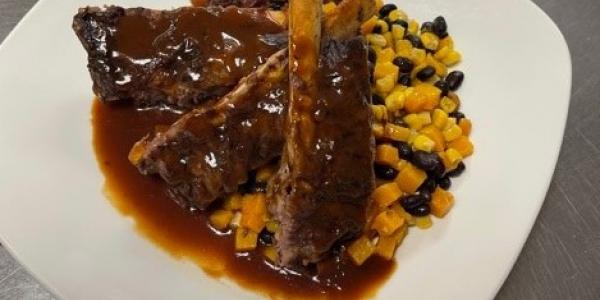 Chef Rob Trufant, Kellogg Catering
Featured Food: Buffalo Yield: 6-8
Ingredients
2 lbs Bison
Salt to taste
2 Sprigs Rosemary
1 Carrot, large dice
1-2 Stalks Celery, large dice
1 Onion, large dice
4 oz. Tomato Paste
1 qt Beef Stock
Preparation
Wash & prepare produce as listed in ingredient details .
Season and pan sear bison on stove top.
Remove and transfer to roasting pan.
In the same pan, sautee carrots until starting to brown at edges. Add onion & cook until browned. Finally, add celery and cook until translucent.
Add tomato paste to vegetables, mix thoroughly and cook until fragrant.
De-glaze pan with beef stock.
Pour stock & veggie mixture over bison in roasting pan. Cover with parchment and foil.
Place in 350 degree F oven for at least 4 hours or until fork tender.
Remove meat from oven and allow to rest.
Reserve liquid and reduce to rich tasting sauce on stove top.
Serve as main dish to corn, beans & squash along with wild rice pilaf. Enjoy!
Featured Recipes
More Food and Nutrition Recipes