Chef John Findley's Roast Turkey
Health4U Staff Thanksgiving Favorites
Chef John Findley's Roast Turkey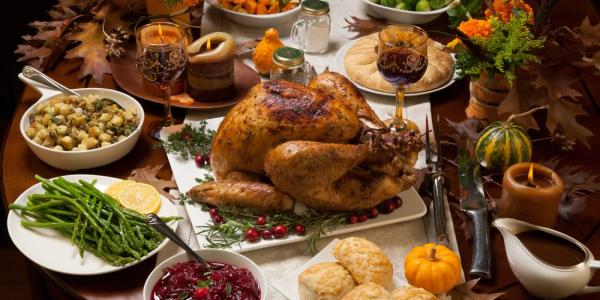 Chef John is the Executive Chef, University Club of MSU
Featured Food: U Club Classics Yield: Serves 10
Ingredients
16 lb. turkey, thawed, internal pieces removed
Salt, pepper, granulated garlic, onion, thyme, rubbed sage, poultry seasoning
Preparation
Preheat the oven to 4oo°F. Place the turkey in a large baking pan. Blend all the spices together and rub the outside skin and inside cavity. Place in the oven and bake for 30 minutes. Reduce the heat to 325°F and cook for about 1 hour. Check the temperature of the turkey breast with a meat thermometer.
If cooking a day or two ahead, take turkey out of the oven when temperature reaches 140°F. Remove meat from bones, use two pans to sort dark meat from white meat, cover and refrigerate. Use the turkey carcass to make stock for gravy. On Thanksgiving Day, an hour or so before dinner, finish cooking the turkey in a 400°F oven until internal temperature reaches 155°F. Let rest for ½ hour before slicing.
If cooking and serving, bring the temperature up to 155°F. Let the turkey rest for at least ½ hour. Internal temperature will increase to 160 to 165°F. Now the turkey is ready to slice and serve.
Featured Recipes
More Food and Nutrition Recipes