Eating for well-being
Chicken Biryani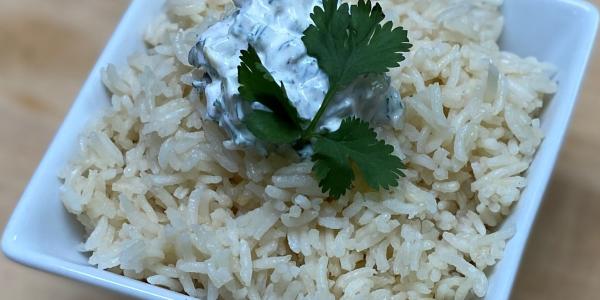 Chef Rob Trufant, Kellogg Catering
Featured Food: Chicken Yield: 4 Servings
Ingredients
Ingredients & prep work for rice:
Basmati Rice – 1 ½ cups – Rinsed well, soaked for 30 minutes, drained
Chicken Stock – 2 ¼ cups
Ingredients & prep work for chicken and marinade:
Combine for at least 30 minutes prior to cooking:
Chicken – 1.5 lb. – Boneless Breast or Thigh – Large Dice
Plain Yogurt – ½ individual 5 oz. container
Garam Masala – 1 Tbsp.
Lime Juice – 1 Lime
Salt and Pepper – To Taste
Ingredients & prep work for vegetables:
Prep Separately:
Yellow Onion – 1 small – medium dice
Red Bell Pepper – 1 small – medium dice
Jalapeno – 1 ea. – small dice
Garlic – minced (prepared ok) – 1 Tbsp.
Curry Powder – 1 Tbsp.
Golden Raisins – ½ cup
Tomato Paste – 1 Small Can
Mint Leaves – 1 Tbsp. Chopped
Chicken Stock – 1 cup
Salt and Pepper – to taste
Ingredients & prep work for Raita:
Combine for Raita:
Plain Yogurt – 1 individual 5 oz. Container
Cucumber – Small Dice or Grated – ½ cup
Cilantro – 2 Tbsp. Chopped Leaves (from kinilaw recipe)
Mint – 1 Tbsp. Chopped Leaves
Ground Cumin – 2 tsp
Salt and Pepper – to taste
Preparation
1. Prepare all ingredients as listed
2. Marinate Chicken – dice chicken and combine ingredients listed
3. Make Raita – combine all ingredients and season
4. Cook Rice – place rice in small oven safe dish – heat up chicken stock, pour over rice, stir, cover, and place in 350 oven for 30-45 minutes or cooked.
5. While rice is cooking, begin sautéing onions until translucent, then add peppers and cook until starting to brown, then curry powder, raisins, and garlic until fragrant, then tomato paste until coated. Add chicken, sliding veggies to the side, searing then flipping. Add Mint and Stock to Pan, cover, and cook until chicken is tender, about 10 minutes.
6. To Serve – distribute chicken base amongst 4 bowls, top with rice, and serve with raita.
7. Enjoy!
Featured Recipes
More Food and Nutrition Recipes