Christmas Tree Spinach Dip Breadsticks
Eating for well-being
Christmas Tree Spinach Dip Breadsticks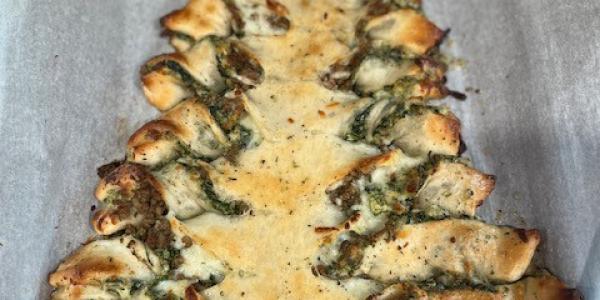 https://www.itsalwaysautumn.com/christmas-treespinach- dip-breadsticks.html#wprm-recipecontainer- 18972
Ingredients
12 oz Frozen chopped spinach
thawed and squeezed dry
6 oz cream cheese softened
2 cloves garlic, minced
1/2 t salt
1/2 t onion powder
1/4 t chili powder
1/4 t pepper
1 t Italian seasoning
1/2 cup grated parmesan
cheese
1 cup grated cheddar OR
mozzarella cheese
1 tube refrigerated thin crust
pizza crust
2 T butter
1/2 t Italian seasoning
1/2 t garlic
Preparation
Preheat oven to 400 degrees.
In a bowl, beat together the spinach and cream cheese. Add garlic, salt, onion powder, chili powder, pepper, and Italian seasoning and beat to combine. Add parmesan cheese and 1/2 of the cheddar or mozzarella cheese and beat to combine. (The other half of the cheddar or mozzarella cheese will be sprinkled over the filling when you shape the Christmas tree.)
Roll out pizza dough. Cut into large triangle. Use reserve dough to create second triangle. Spread spinach mixture onto one of the triangles. Top mixture with second triangle. Press edges of dough together. Use pizza cutter and cut into strips from the edges into the center about 2-3 inches. Then, twist the strips.
Bake for about 22 minutes until quite golden brown on top and cooked through on the bottom.
Melt butter and stir in garlic and seasoning, then brush over breadsticks.
Serve warm.
Learn More About spinach
This festive holiday appetizer was a part of the December Well-being Wednesday Cooking Demonstration with Food and Nutrition Intern, Noel Tom.
Featured Recipes
More Food and Nutrition Recipes