Culinary Cooking and Concepts
Classic Beef Stew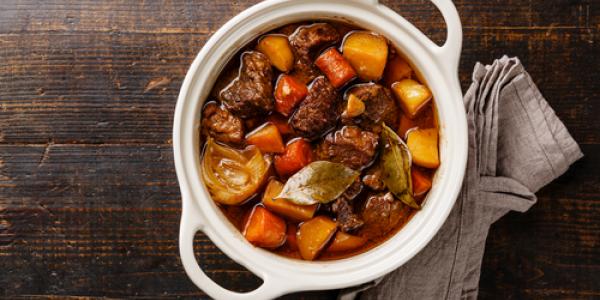 Chef John Findley, Executive Chef, University Club of MSU
Featured Food: Stew Yield: Serves 4
Ingredients
1 oz vegetable oil
1.5 lbs of top sirloin or other quality meat, cut into 1 inch cubes
½ onion large dice
1 carrot peeled and large dice
2 ribs celery large dice
1 clove garlic minced
1 c red wine
1 oz Worcestershire sauce
2 potatoes peeled and large dice
1 can diced tomatoes
Salt, pepper, Italian seasoning, chili powder, bay leaf
2 oz butter
2 oz flour
1 qtr. beef stock
Preparation
Using a large heavy duty pot, heat on high temp. After 5 minutes, add the oil and the beef tips. Reduce the heat to medium-high. Stir every couple minutes for about 15-20 minutes.
While they are browning, use a medium size pot over low heat and add the butter to melt. Now stir in the flour and cook for 10 minutes stirring often to make the roux. After 10 minutes, add the beef stock and whisk in, turning the heat up to high. Keep stirring. Once it comes to a boil, reduce the heat to low and let simmer for 10 minutes. Sauce should be about ready.
Back to the beef tips. We want them to be very dark in color before we add the vegetables. Reduce the heat to medium. Now add the onion, carrots, celery and cook for 3-5 minutes. Add the garlic and stir. Stir in the red wine and the Worcestershire to de-glaze the pan. Now add the sauce to the tips and vegetables. Keep the temp on low and let simmer for almost an hour. Adjust the seasoning. Serve.
Featured Recipes
More Food and Nutrition Recipes