Corn Cakes with White Bean Spread
Eating for well-being
Corn Cakes with White Bean Spread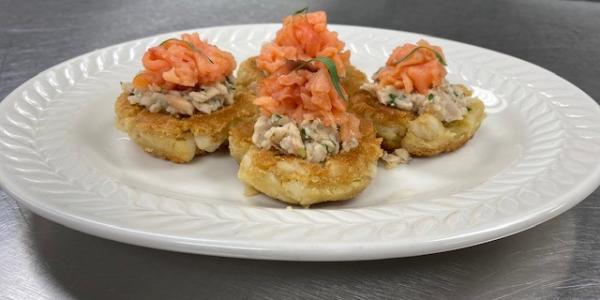 Chef Rob Trufant, Kellogg Catering
Featured Food: Corn Yield: 4 servings
Ingredients
Corn Cake Ingredients:
1/2 cup Masa
1/3 cup Vegetable stock
1 Tbsp. Lard
1/4 cup Chopped Hominy
Salt to taste
White Bean Spread Ingredients:
1/4 cup White beans, mashed
1 Tbsp Tarragon
1 tsp White Vinegar
Salt to taste
4 oz Prepared, smoked fish
Preparation
Prepare Bean Spread:
Mash beans, with herbs, vinegar and salt in mixing bowl. Cover and set aside.
Create Corn Cakes:
Mix dry ingredients thoroughly in separate mixing bowl. Cut in lard with a fork. Add in hominy, salt and small amount of broth.
Form into large ball and dive into 4 corn cakes with a small well on one side.
Fry each cake in hot oil on stove top until browned. Flip and cook on second side. Remove from oil.
Plate Corn Cakes:
Place individual corn cakes on plate, fill bean mixture into each corn cake well. Top with prepared, smoked fish and garnish with Tarragon.
Enjoy!
Featured Recipes
More Food and Nutrition Recipes