Creamy Chicken & Wild Rice Soup
Culinary Cooking and Concepts
Creamy Chicken & Wild Rice Soup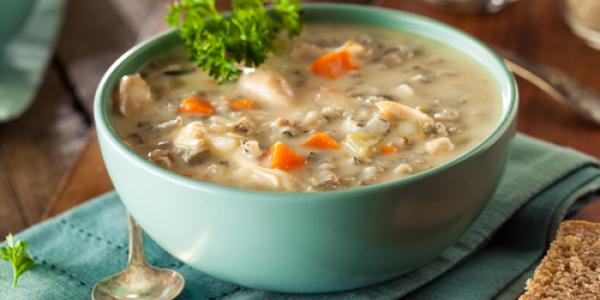 Adapted from: Julie Andrews @ https://thegourmetrd.com/
Featured Food: wild rice Yield: Serves 8
Ingredients
4 T oil
1 medium, yellow onion, peeled and diced
2 medium carrots, peeled and diced
1 medium stalk celery, diced
1 ½ lbs boneless skinless chicken breasts or thighs, diced
3-4 cloves garlic, peeled and minced
2 t poultry seasoning
½ t salt
1 t dried mustard powder
½ t celery salt
¾ t ground black pepper
4 T all-purpose flour
5-6 c unsalted chicken stock
1 c wild rice or wild rice blend
2-3 sprigs fresh thyme
2 dried bay leaves
3-4 T heavy cream or half and half
1 t Worcestershire sauce or low sodium soy sauce (optional)
3 c cleaned and chopped kale
Preparation
Heat oil in stock pot to medium. Add onion, carrots, celery and cook 7-8 minutes or until soft.
Add diced chicken and cook until slightly browned on the outside. Stir in garlic, poultry seasoning, salt, mustard powder, celery salt and black pepper. Stir in flour. Add stock and turn heat to medium-high. Bring to simmer, then add wild rice, thyme sprigs and bay leaves. Reduce heat to low and let simmer, stirring frequently, for 40-50 minutes or until rice is al dente, adding additional stock if mixture gets too thick or starts to stick to the bottom.
Remove thyme sprigs and bay leaves, discard. Stir in cream or half and half. Add Worcestershire or soy sauce, if desired. Add chopped kale, cover with lid 2-3 minutes to allow kale to wilt.
Stir soup, taste, and adjust seasoning, if necessary. Serve with salad and/or side of bread.
Featured Recipes
More Food and Nutrition Recipes