Dried Apricots and Fig Sauce
Recipe For Health
Dried Apricots and Fig Sauce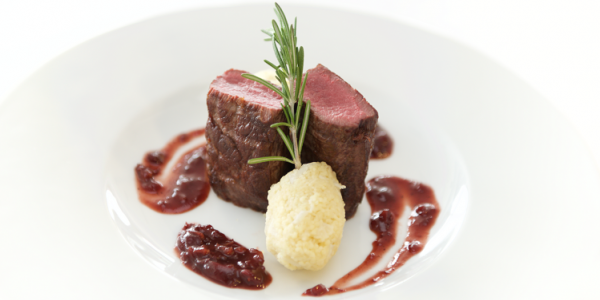 from the kitchen of the MSU Residence Halls
Ingredients
½ c. apple juice
1 c. chicken broth
1 T. minced fresh ginger
1 t. cardamom
¾ c. sliced dried apricots
¼ c. diced dried figs
2 T. golden raisins
1 T. unsalted butter
salt and pepper to taste
Preparation
In a sauce pan over medium, heat apple juice, broth, ginger, cardamom, and dried fruit. Simmer for 20 to 25 minutes until the volume is reduced by half. Remove from heat and whisk in the butter. Add salt and pepper to your taste preference.
Serve with grilled or roasted pork chops, pork loin, chicken, or turkey.
Learn More About Apricots
Golden-orange blushes their velvety skin, a delicate covering for deep orange flesh and an almond shaped pit. Sound like a steamy novel? It's no wonder apricots have long been considered aphrodisiacs!
Their trees flower and bear fruit early, hence the name apricot, derived from the Latin word for precocious. California apricots begin to appear in the supermarket as early as mid-May, the first stone fruit of the season. Prime growing conditions are found in California's San Joaquin Valley which produces 95 percent of all apricots grown in the United States. Michigan's prime apricot growing region is located in the northwest part of the Lower Peninsula. The season is short, about 2 weeks beginning in mid to late July.
Apricots may look like small peaches but they have an intensely sweet fragrance and a tangy taste all their own. A whiff of citrus with herbal and floral notes tells you they are ripe. Fresh ready-to-eat apricots should be plump and fairly firm with a yellow-orange color. Avoid apricots with even a tinge of green as they will not ripen. Take home only what you can eat within a day or two unless you plan to preserve them.
Because of their delicate nature, most apricots are not shipped fresh. Rather, they make a short trip to the grower's processing facility to be dried, canned, frozen or made into preserves so you can enjoy apricots year-round.
Treating dried apricots with sulfur dioxide keeps them moist and bright orange and prevents the development of mold. The Food and Drug Administration regulates the use of sulfites, generally considered safe although some people are sensitive to them. Specialty markets sell unsulfured dried apricots, known for their dark and shriveled appearance but great flavor when used in cooking.
In Greece, apricots are called "golden eggs of the sun," an apt description for these delightful nuggets. Chosen carefully at the peak of ripeness, fresh apricots can add juiciness to your steamy summer.
Peggy Crum, MA, RD
Featured Recipes
More Food and Nutrition Recipes