Festive Pomegranate Guacamole
Eating for well-being
Festive Pomegranate Guacamole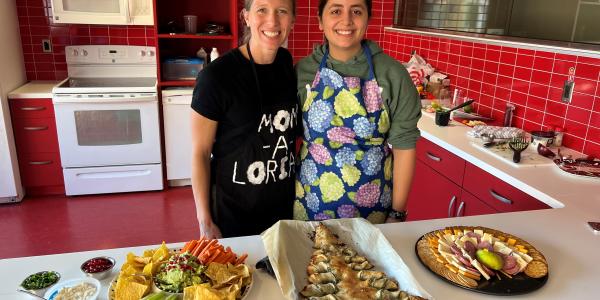 Festive pomegranate guacamole. Cookie and Kate. https://cookieandkate.com/festivepomegranate- guacamole/
Ingredients
14 medium ripe avocados, pitted and diced
2 tablespoons fresh lime juice
2 garlic cloves, pressed or minced
1 teaspoon salt
1/2 medium red onion, chopped
1/4 cup fresh cilantro, mostly leaves, chopped
1 to 2 jalapenos ( or 1 serrano pepper), seeded and
chopped
1 medium pomegranate, deseeded (about 1 cup)
Entirely optional: 1/2 cup crumbled feta
Preparation
With a spoon, scoop the avocado flesh into a medium-sized mixing bowl. Add the lime juice, garlic and salt. Mash the ingredients together with a large fork or potato masher until the avocado is nice and creamy.
Add the onion, chopped cilantro and jalapeño to the bowl and mix well. Gently stir in ½ of the pomegranate arils. For extra presentation points, transfer the guacamole to an appropriately sized serving bowl now. Sprinkle remaining pomegranate arils over guacamole, along with some additional chopped cilantro and totally optional feta, if you'd like. Serve immediately.
Learn More About pomegranate
This recipe was part of the December 2022 Holiday Cooking Demonstration with Food & Nutrition Intern Noel Tom.
Featured Recipes
More Food and Nutrition Recipes