Flourless Dark Chocolate Mini Cakes
Recipe For Health
Flourless Dark Chocolate Mini Cakes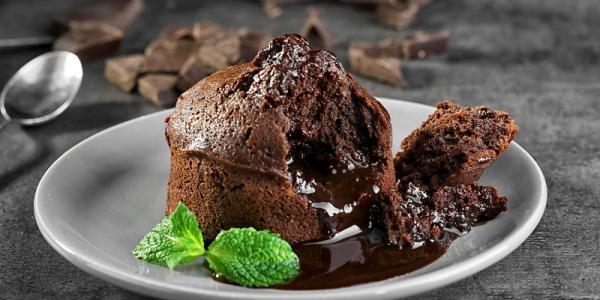 Chef Kurt Kwiatkowski, MSU Culinary Services
Ingredients
5 oz. dark chocolate chips
6 T. butter
1 t. espresso powder
½ c. sugar
4 large eggs
2 t. pure vanilla extract
½ c. unsweetened cocoa powder
Preparation
Preheat oven to 375°F. Lightly butter or spray 6 small ramekins.
In a metal bowl set over a saucepan of simmering water, melt chocolate chips with butter, and espresso powder; stir until smooth. Remove the bowl from heat and set aside.
Whisk sugar, eggs, and vanilla together. Temper the egg mixture with a little of the chocolate mixture then pour the egg into chocolate mixture and mix well.
Sift cocoa powder over chocolate mixture and whisk until combined. Pour batter into ramekins, and place them in a baking dish with a cup of water in it. Place the dish in the middle of oven 14-18 minutes, or until the tops have formed a thin crust.

Cool in the ramekins on a rack for 5 minutes. Run a knife around the edge to loosen, then invert onto a serving plate. Drizzle with raspberry sauce, top with a dollop of whipped cream, or serve with ice cream.

*Eggs are tempered when a hot liquid is added slowly to the egg mixture. Since eggs cook a lot more quickly than other ingredients, this is a critical step to keep from having scrambled eggs in your cake batter!
Learn More About dark chocolate
In celebration of National Bittersweet Chocolate Day on January 10th, why not warm up with a cup of hot chocolate? Make it without milk and you'll have something very close to the millennia-old chocolate beverage, an exotic drink made from ground cacao beans, spices, and water.
Chocolate comes from the fruit pods of cacao trees. The complex flavor held within each pod's 20 to 40 seeds depends on tree variety, country of origin, soil, and weather. Seeds are fermented, dried, roasted, and finally, shells are removed to extract the chocolate nibs. Real chocolate must contain both cocoa solids and cocoa butter. The combination is known as chocolate liquor, made by finely grinding nibs into a smooth paste. Once cooled, chocolate liquor becomes solid and is formed into a bar.
Unsweetened or baking chocolate is 100 percent chocolate liquor with no added sugar. It must contain not less than 50 percent and not more than 60 percent cocoa butter.
Bittersweet and semisweet chocolate, also called dark chocolate, must have at least 35 percent chocolate liquor. Bittersweet typically has less sugar than semisweet. Cacao percentages listed on dark chocolate product labels indicate percent of chocolate liquor. Since chocolate liquor includes butter and solids, a higher percent number may come from more butter content rather than more cocoa solids. Regardless, higher percent cacao means lower percent sugar.
Chocolate is delicate. It will burn if it reaches a temperature above 120°F. It will seize, that is, form a grainy paste, if it comes in contact with even a drop of water. Avoid these problems: place chocolate pieces in a bowl over a pan of steaming but not boiling water; stir until it's melted. If you plan to use your melted chocolate for coating or molding, it's worth the time and effort to temper it. Tempering is a process that develops stable fat crystals in the chocolate to give your finished product its rightful sheen and snap.
Peggy Crum MA, RD
Featured Recipes
More Food and Nutrition Recipes