Eating for well-being
Fry Bread with Wojapi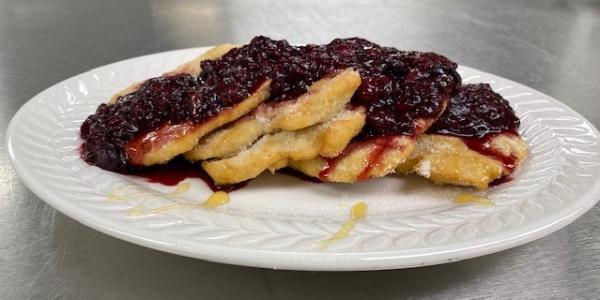 Chef Rob Trufant, Kellogg Catering
Featured Food: Chokecherries Yield: 4 servings
Ingredients
Fry Bread:
1 cup Flour
Pinch of salt
2 tsp. sugar
1 tsp Baking Powder
1/2 cup hot water
Vegetable oil as needed for frying
Anise Sugar:
1 Tbsp Anise Seeds
3/4 cup Granulated Beet Sugar
Wojapi:
2 cups Berries, Chokecherries (tart cherries)
1/4 cup water
Honey as desired
Preparation
Wojapi:
Wash fruit, combine with water in medium saucepan. Cook over low heat until broken down and thickened.
Anise Sugar:
Add 1 Tbsp. Anise Seed to small fry pan. Toast on stove-top until fragrant. Add 3/4 cup sugar and warm. Turn off heat and remove from stove. Set aside.
Fry Bread:
Sift together flour, salt, sugar and baking powder. Add hot water slowly while stirring, until a sticky dough forms. Knead dough with hands, form into a ball. Coat with oil, cover and rest for 30 minutes. Divide into 4 pieces and flatten dough. Heat oil in frying pan. Add fry bread and brown on both sides. Remove from oil.
Sprinkle both sides with Anise Sugar. Plate Fry Bread on serving platter. Spoon warm Wojapi over dough and drizzle with honey.
Serve warm - Enjoy!
Featured Recipes
More Food and Nutrition Recipes