Nicole Martin's Heavenly Oreo Dessert
Health4U Staff Thanksgiving Favorites
Nicole Martin's Heavenly Oreo Dessert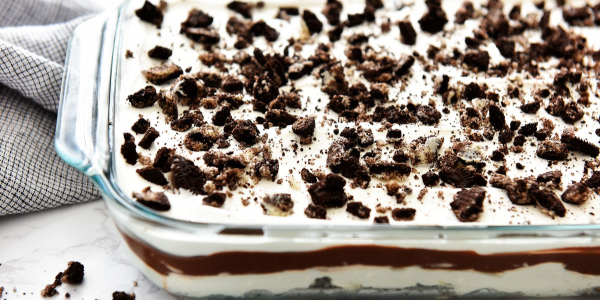 https://life-in-the-lofthouse.com/heavenly-oreo-dessert/
Featured Food: Nicole's Recipe Yield: serves 12
Ingredients
1, 15.35oz package Double-Stuffed Oreo Cookies
½ cup butter, melted
2, 3.9 oz packages Instant Chocolate pudding mix
3 ¼ cup cold milk
2, 8 oz containers Cool Whip
1, 8 oz block cream cheese, softened
1 cup powdered sugar
Preparation
Place Oreos in zip-lock bag. Seal shut, place on counter and crush cookies with rolling pin until they are small chunks/crumbs. Set aside 1/3 of cookie crumbs for the topping. Pour remaining crumbs onto bottom of 9x13 baking pan. Drizzle melted butter over crumbs and mix well to combine. Press into the pan to form a crust.
Whisk 2 pudding mixes and milk together in medium bowl. Cover and place in fridge to set.
Blend cream cheese in medium mixing bowl and slowly add powdered sugar. Fold in one container of Cool Whip. Spread mixture over the cookie crust. Then, layer chocolate pudding over cream cheese. Layer the second container of Cool Whip over the chocolate pudding. Sprinkle the top with remaining cookie crumbs.
Cover and chill in fridge at least 2 hours before serving. Enjoy!
Featured Recipes
More Food and Nutrition Recipes