Raspberry Vinaigrette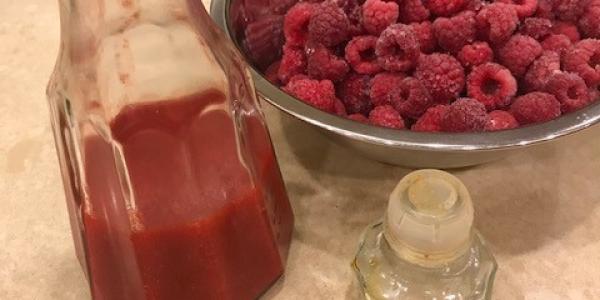 by Peggy Crum, MA, RD, Health4U Nutritionist
Featured Food: Raspberries Yield: 3/4 cup
Ingredients
6 to 8 oz fresh or frozen raspberries (fresh is fine but you may want to freeze your berries first as freezing helps them release their juices)
1 T red wine vinegar
½ to 1 t honey
Pinch of salt
Black pepper to taste
5 T extra virgin olive oil
Preparation
Wash berries and place in fine mesh strainer. Mash the berries, pushing the fruit through the strainer into a glass measuring cup until you have about ½ cup of raspberry juice and seedless puree. Discard what is left in the strainer.
Add vinegar, ½ t honey, salt, and pepper. Whisk in the olive oil. Taste. Add more honey, salt, and/or pepper to taste.
Keeps in the refrigerator for about a week.
Featured Recipes
More Food and Nutrition Recipes