Recipe For Health
Roasted Cherry Tomatoes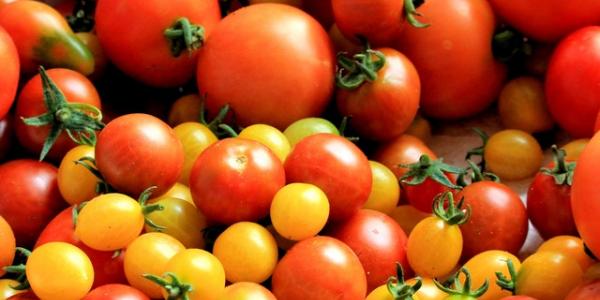 by Corporate Chef Kurt Kwaitkowski
Ingredients
1 pt. (2 c.) red cherry tomatoes
1 pt. (2 c.) yellow cherry tomatoes
2 T. extra virgin olive oil
2 t. kosher salt
1 t. cracked black pepper
Preparation
Preheat oven to 350°F.
Rinse and dry tomatoes.
Place tomatoes, olive oil, salt and pepper in a bowl and toss to evenly coat tomatoes with oil and seasonings.
Place on a baking sheet and roast in oven for about 5-7 minutes. All ovens work differently; adjust oven temperature to keep tomatoes from popping open while roasting.
Roasted cherry tomatoes may be served as a side dish, tossed with pasta or served as a topping for grilled or sautéed chicken or pork.
Learn More About cherry tomatoes
Tomatoes had a humble beginning starting in the wild as small, bitter bush berries. When first domesticated in Mexico, tomatoes were about the size of the ones we call cherry tomatoes. Since then, tomatoes have soared in popularity; today they are part of every cuisine.
Still the first tomatoes—each and every growing season—cherry tomatoes are just a smaller version of the regular tomato. Cherry tomatoes ripen about mid-summer. It's this early part of the tomato season when you can count on cherry tomatoes to have better flavor than their larger-size counterparts. In the off-season, if you must have fresh, it's best to go with cherry tomatoes.
All tomatoes, regardless of size, are best when fully ripe, not necessarily vine-ripened. Place them on the countertop away from direct sunlight; be prepared to use them within a day or two.

Cherry tomatoes are known for their juiciness, even straight from the supermarket. Juiciness is fine when eating them raw but too much juice leads to a watery problem in some recipes. If you want less juice and more tomato flavor, follow one of these techniques:
Method # 1: Roast them, as outlined in this month's recipe, to cook off excess liquid.

Method # 2: Toss them with salt and sugar to draw off excess liquid
-Cut each cherry tomato into quarters.
-Place in a bowl and toss with ¼ teaspoon salt and ½ teaspoon sugar per 4 cups of tomatoes.
-Let stand for 30 minutes, stirring occasionally.
-Then, give them a whirl in your salad spinner for about 1 minute; or drain in a colander or on paper towel.
A cherry tomato plant can be grown almost anywhere—staked in a small garden or potted in a container on the patio. Just one plant will reward you with oodles of fruit, enough for a small household!
Peggy Crum MA, RD
Featured Recipes
More Food and Nutrition Recipes