Roasted Fingerling Potatoes
Recipe For Health
Roasted Fingerling Potatoes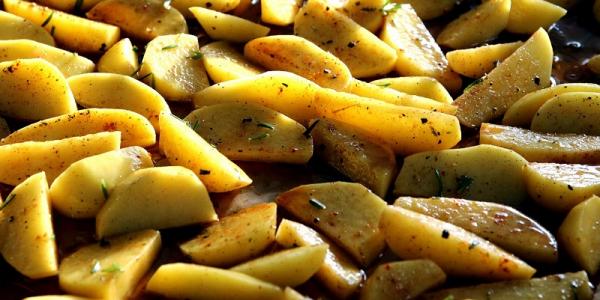 by Corporate Chef Kurt Kwiatkowski
Ingredients
1 ½ lb. fingerling potatoes
1 T. olive oil
1 t. granulated garlic*
1 t. dried tarragon
¼ t. dried mustard
½ t. kosher salt
¼ t. coarse ground black pepper
Preparation
Preheat oven to 400°F. Prepare rimmed baking sheet by coating with cooking spray or lining with silicon mat or parchment paper.
Wash potatoes. Cut them in half lengthwise. Place in large bowl. Toss with olive oil and spices until potatoes are evenly coated. Arrange on prepared baking sheet, cut sides down.
Place in hot oven. Roast for 10 minutes; remove pan from oven and shake the tray to loosen the potatoes. Return to the oven for an additional 10 to 15 minutes until nicely golden brown. Remove from oven, taste and adjust seasoning with salt and pepper as needed.

*Granulated garlic and garlic powder are both made from pure dehydrated garlic. The only difference is texture making the powder more intense. To substitute garlic powder for granulated garlic, use about half the amount.
Learn More About Fingerling Potatoes
Whether or not you consider potatoes a staple goes back to your roots. Growing up, it just wasn't a meal without potatoes on the table. Even though I have ventured out and eat potatoes less often, my pantry seems incomplete without potatoes in it.
The potato is not really a root but rather a tuber, the end of the plant's underground stem that swells with stored starch and water. Potatoes are distinguished as one of the few plants whose only edible part grows underground. As a member of the nightshade family, the potato plant's leaves and stems are inedible. After harvest, tubers exposed to too much natural or artificial light causes a green cast to develop on their skins. Deeply peeling the green part away can salvage greened potatoes but if they taste strongly bitter, it's best to throw them out.

There are seven potato categories: russet, red, white, yellow, blue or purple, fingerling and petite. Russets and blue potatoes are starchy types which produce a dry, fluffy texture when cooked. These work well for baking, mashing and frying. Waxy types potatoes—red, yellow and fingerlings—are low starch potatoes holding their shape when boiled and roasted.

Our featured food this month is the fingerling potato. These oblong-shaped tubers are mature potatoes (not "new potatoes") even though they are only 2 to 4 inches in length. They come in a variety of skin and flesh colors. Being thin skinned, fingerlings look like they should be refrigerated but resist the temptation. Just like other potatoes, they keep best when stored in a cool dark place, away from onions, and with good air circulation. If your storage space is not totally dark, store them in an open-top paper bag. Fingerlings cook faster than round or starchy potatoes, usually in less than 25 minutes. Pan frying or roasting develops their earthy robust flavor, a stand out if you're a potato lover like me.

by Peggy Crum MA, RD
Featured Recipes
More Food and Nutrition Recipes