Eating for well-being
Shrimp Kinilaw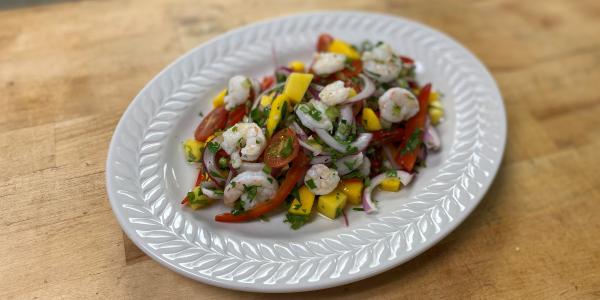 Chef Rob Trufant, Kellogg Catering
Featured Food: mango Yield: 4 Servings
Ingredients
Ingredients & prep work for shrimp:
Shrimp – ½ lb. – peeled, deveined, tail-off, cooked – if frozen, thaw
Ingredients & prep work for salad:
Combine:
White Wine Vinegar – 1 cup
Lemon Juice & Zest – 1 Lemon
Lime Juice & Zest – 1 Lime
Red Onion – 1 small – sliced thin
Red Bell Pepper – 1 small – sliced thin
Hot Chilies – to taste – 1 or 2 jalapeno/serrano/birds eye depending on preference
Ginger – Fresh (thin strips) or Prepared (Grated) – 1 Tbsp.
Ginger Beer/Ale – ¾ cup
Combine:
Mangoes – 2 each, peeled and diced (frozen is OK!)
Cherry Tomatoes – 1 pint, halved
Green Onion – 1 bunch, trimmed and sliced thin, reserve some for garnish
Cilantro – 1 bunch, chopped, reserve some for garnish and entree
Preparation
1. Gather all ingredients and prep as listed first.
2. Combine the Vinegar, Juices, Onions, Peppers, Chilies, and Ginger and Ginger Beer
3. Combine the Mangoes, Cherry Tomatoes, Green Onion, and Cilantro
4. Season both with salt and pepper.
5. Before serving, combine all three ingredients for about 15 minutes to marry.
6. Serve in small bowls, arranging shrimp, and garnishing with more scallions and cilantro
. Enjoy!
Featured Recipes
More Food and Nutrition Recipes