Eating for well-being
Wild Rice Pilaf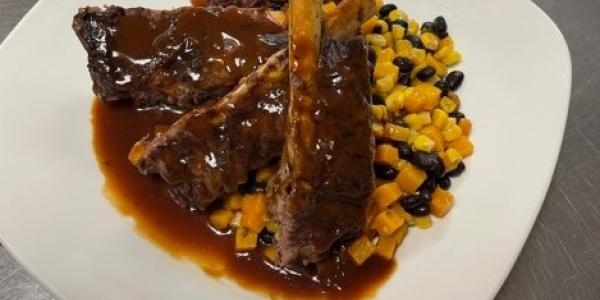 Chef Rob Trufant, Kellogg Catering
Featured Food: wild rice Yield: 4-6 servings
Ingredients
1/2 cup Wild Rice
1 Cup Hominy
1-2 Stalks Celery, small dice
1 large Carrot, small dice
1/2 Onion, small dice
1/2 cup Tart Cherries, dried
2 cups Vegetable Stock
Salt to taste
Preparation
Wash & prepare vegetables as listed above .
Sautee carrots in large sauce pan in oil until browned around edges. Add onion until browned and celery. Cook until translucent.
Add tart cherries and wild rice and cook until fragrant.
Add vegetable stock, season with salt to taste.
Cover and simmer until liquid is absorbed. Remove from heat & fluff with fork.
Serve with Braised Buffalo and enjoy!
Featured Recipes
More Food and Nutrition Recipes