Sensible Meals
Zippy Coleslaw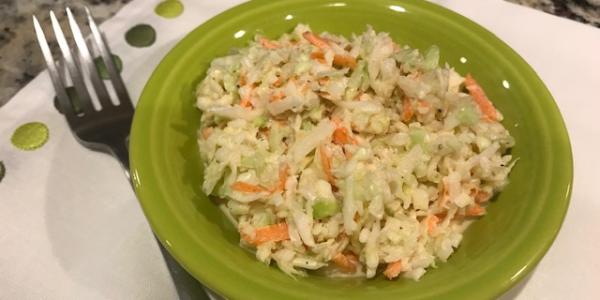 Recipe adapted by Peggy Crum, MA, RD from Cole Slaw recipe in Robot Coupe Recipe Booklet, 1981
Featured Food: Cabbage Yield: serves 4 to 6
Ingredients
1 pound green cabbage
1 medium carrot
1/2 small onion
1 T white vinegar, more to taste
1 T vegetable oil
1 to 2 t sugar
1/4 t. salt
Freshly ground black pepper to taste
1/2 c mayonnaise
1 to 2 T fresh ground horseradish
2 to 3 T plain yogurt
Preparation
Shred cabbage and carrot using food processor or box grater. Transfer shredded vegetables to large bowl.
Place remaining ingredients into the bowl of food processor with blade in place. Pulse until dressing is smooth. If not using food processor, mince onion; place in small bowl with remaining ingredients and whisk well.
Pour dressing over vegetables and mix well. Cover and chill until serving time..
Featured Recipes
More Food and Nutrition Recipes