Food Facts
Apples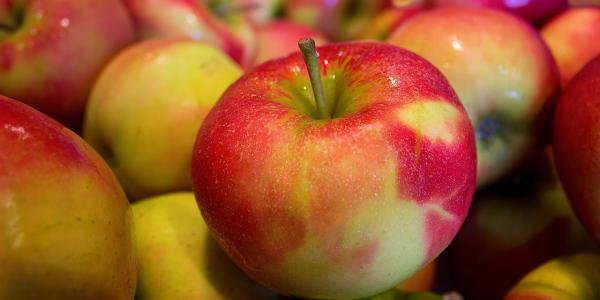 The year-round fresh fruit.
SEASON
Mid-summer through late fall. Storage apples for year-round availability.
Guide to Michigan-grown apples
SHOPPING
Look for fruits that are very firm and have beautiful rich coloring.
STORING
Apples ripen 6-10 times faster at room temperature than in refrigerator. To keep more than a few days, store in a plastic bag in the produce drawer of the refrigerator.
PREPARING
To prevent browning once an apple is sliced, place in a bowl with cold water and a spoonful of lemon juice.
FLAVORS
Gala: sweet and grainy with mild flavor. Work best as fresh fruit eating or in salads.
Fuji: sweet, juicy, and crisp. Great for apple sauce!
Honey Crisp: honey sweet with slight tartness but super crisp! Good for sauces, baking, and pies.
McIntosh: tart flavor, yet firm texture. Good for applesauce and cider!
Golden Delicious: sweet and mild.
Red Delicious: sweet and mid, very juicy.
Granny Smith: crisp, juicy, and tart. Especially good for baking because they remain firm.
NUTRITION

The skin of an apple is unusually rich in nutrients providing six times the antioxidant capacity of a peeled apple. Apples are a good source of vitamin C and fiber.
Related Articles
More Food and Nutrition Articles