Food Facts
Blueberries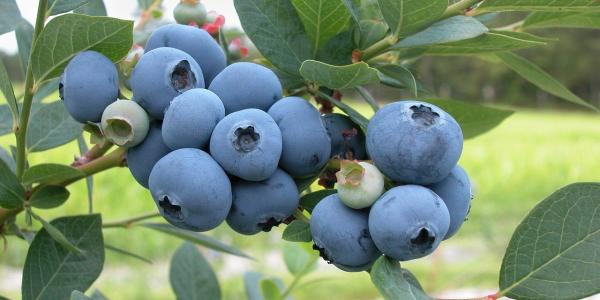 Michigan fresh blueberries are the best you can get from mid-July through mid-September. "Eat blue. Go green."
SEASON
Peak season for Michigan blueberries is mid-July through mid-September. Find a farm to pick-your-own or a festival in your area. Of all the berries, blueberries are the most fun to pick--no prickers, no bending, and the ripe ones just fall right into your hand!
SHOPPING
Select plump blueberries, indigo in color with a dusty white "bloom," a natural protection from the sun. Any hint of red means the berry isn't ripe. Blueberries don't ripen very well after they're picked.
Blueberries are available cultivated (on farms) or wild. The wild variety has a chewy texture and stronger flavor. Wild berries, typically sold canned or frozen, are much smaller than cultivated blueberries. Blueberries are also available dried; use in recipes that call for raisins or other dried fruit.
STORING
Chill berries soon after picking to extend shelf life. Unwashed berries will keep in refrigerator for at least a week.
Blueberries are really easy to freeze. Sort out twigs, leaves, unripe berries, and soft or spotty berries. Take your perfectly good berries--unwashed (washing before freezing seems to make the skins tough)--and spread them in a single layer on sheet pans and pop them in the freezer. Once they're frozen, transfer to containers or freezer bags.
PREPARING
Quickly rinse fresh or frozen berries just before use. Aren't blueberries the best?! You can serve them just the way they are--no cutting or peeling is necessary. No need to thaw them before using.
FLAVORS
Berries grown in western Michigan are mildly sweet. Wild berries grown in Michigan's Upper Peninsula are tart and tangy.
RECIPES
Traditional in pies, muffins, and pancakes, blueberries make a great addition to salads, salsas, cobblers, and crisps.
Hint: When making any kind of batter, roll fresh or frozen blueberries lightly in flour or cornstarch and add them last to prevent their blue juice from bleeding into the batter.
Here are a few blueberry recipes from the Health4U archive:
Fresh or dried, blueberries are a delicious topping for our ever-popular Baked Oatmeal.
NUTRITION
Rich in anthrocyanin, a powerful antioxidant, indicated by their blue color.
FOR MORE READING

Check out this great article about the Michigan State University plant breeder who developed the blueberry we all know and love.
Related Articles
More Food and Nutrition Articles