Food Facts
Shiitake Mushrooms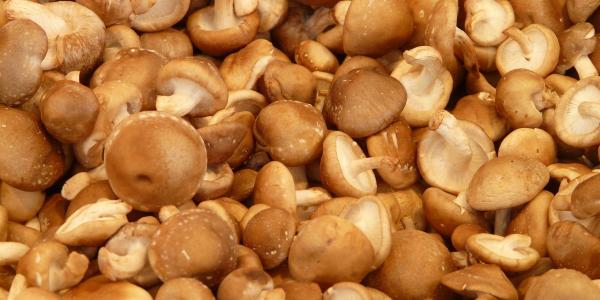 The very definition of umami.
SEASON
Shiitakes are available year-round.
SHOPPING

A relative newcomer in the US market, fresh shiitake mushrooms are now available in most grocery stores. Available in plastic containers or, in large specialty stores, in bulk.
Dried shiitake mushrooms have long been available in US labeled as Japanese or Chinese dried mushrooms.
STORING
Fresh: Refrigerate. If you're not using them for more than 2 to 3 days, take them out of the plastic container/wrap and put them in a paper bag in the fridge. Allowing them to breathe extends the storage time to 2 weeks.
Dried: Store in cabinet or pantry indefinitely--well, until you use them up!
PREPARING
Fresh: Stems are too tough to eat. Cut off the stems with a knife or scissors. But don't throw them away! They're full of savory goodness--add to soup or in preparing vegetable stock, just remove them before serving. The caps, chopped, sliced, or diced as desired, are delicious when sauteed. Brush large caps with oil and grill for a vegetarian sandwich.
Dried: To rapidly reconstitute dried shiitake, put them in a small bowl, cover with water and microwave on high for 30 seconds, then allow to steep for five minutes. The soaking water may have bits of dirt from the mushrooms but it's worth saving. Strain it through two thicknesses of paper towel before using it in a savory dish as a substitute for the broth or water.
FLAVORS

The dried version is packed with umami! These will add more unique shiitake flavor to your dish. The very act of drying and rehydrating develops lots of lenthionine, a unique molecule created by enzymes in shiitake tissue. Lenthionine is responsible for the meaty aroma and flavor for which shiitake are known.
NUTRITION

Shiitake mushrooms have one of the highest protein content of all mushrooms.
Rich source of the antioxidant selenium.

Related Articles
More Food and Nutrition Articles