Food Facts
Pears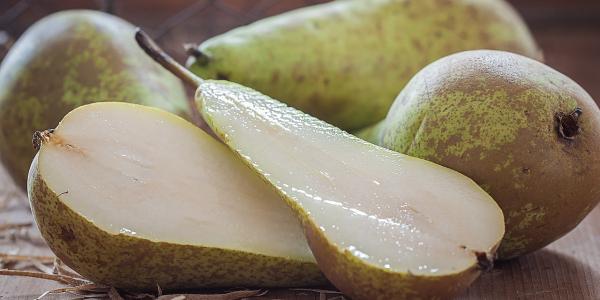 Bartletts and so many more!
SEASON
August through mid-October.
Pears are best if they are picked before turning fully ripe and stored at a cool temperature for weeks or months. Because pears store well, they are available from late summer through spring and early summer of the following year.
SHOPPING
Most Michigan-grown pears are Bartletts, the earliest variety of the pear season. Bartlett pears are unique in that they turn from green to golden yellow as they ripen. Other pears remain green or red. Choose firm pears without blemishes and bruises.
STORING
Store pears at room temperature (do not refrigerate) and check them daily to see if they are ripe. Placing them in a paper bag or near bananas speeds the ripening process. The best sign of ripeness is to test the area around the stem of the pear. Press gently on the neck of the pear. If it yields to gentle pressure, it's ready to use. Once the pears are ripe, place them in the refrigerator to slow the ripening process but plan on using them within 5 days.
PREPARING
Wash fresh pears in cold water before cutting or biting.
Pear flesh oxidizes (turns brown) very quickly. While browning will not affect the taste, cut pears look more appealing when they remain white. To prevent browning, dip cut fruit in a lemon solution made up of half lemon juice and half water.
Removing the seed core from cut pears can be done with a paring knife. For more attractive results, use a melon baller, a common yet under-utilized kitchen gadget. Cut pears in half lengthwise. Use a melon baller to scoop out the core and then gently scrape out the stem and blossom ends.
Pears can be very good cooked however, when they are properly ripe, eating them raw is hard to beat!
FLAVORS
Anjou: citrusy-sweet and juicy; all-purpose pear.
Bartlett: creamy, juicy, sweet with a musky aroma and traditional pear flavor.
Bosc: firm, honey-flavored; elegant shape; perfect for cooking.
Comice: mellow sweet flavor; just right for eating out-of-hand.
Harrow Sweet: creamy white, very sweet and juicy with excellent pear flavors; firm texture.
Seckel: small, crisp, very sweet and juicy with a spicy, aromatic flavor; excellent dessert pear; does not require cool storage in the ripening process therefore it can be eaten off the tree.
Spartlett: similar in shape to Bartlett only larger; firmer and less sweet makes it ideal for cooking.
NUTRITION
Good source of vitamin C. High in dietary fiber.
Related Articles
More Food and Nutrition Articles