Move @ Work
Podcasts: Your New Favorite Workout Partner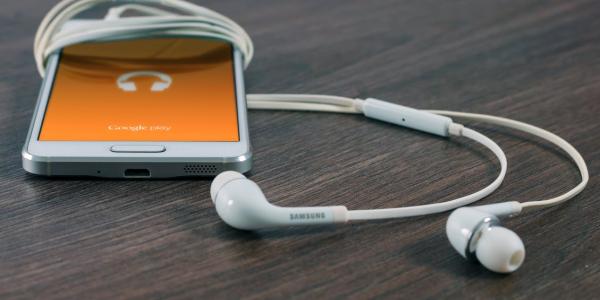 Podcasts are here to stay. Like a book-on-tape, just without the tape, podcasts make an excellent workout diversion. Laugh, cry, learn, sometimes all in the same episode!
Remember that awesome workout playlist you made a few summers back? The one with the snappy pop tune that always got you pumped to tackle a workout, even if you could never quite decipher all of the lyrics? Fast forward to present day. Is that playlist starting to feel a bit stale? If it's time to shake up your workout entertainment, consider giving podcasts a spin.
Podcasts are a great way to pass the time, learn something new, get lost in a story, or just have a laugh. Because most podcasts last between 30-60 minutes, they are a great option for workouts. The best part? Podcasts are typically free, and take only seconds to download on your smartphone.
Thanks to a surge in popularity over the last few years, podcasts have become a staple of America's media diet. As a result, there are literally hundreds of thousands of podcasts in the world, covering topics from Art to Zoology. The point is, if you have an interest, there is probably a podcast for it. Standalone shows like This American Life are great for single workouts, while addicting series like Serial will keep you riveted day after day, mile after mile.
Every workout is different, and some days you may want to disconnect entirely and allow your mind to wander sans headphones. Other days may require you to plug into a playlist with pounding bass and screaming guitars to help drive through the last few reps. Somewhere between is the space that podcasts occupy. Just remember to stay aware of your surroundings while using earphones. If you are ready to tune in, but aren't sure where to begin, try one of these recommended shows and get moving!
TED Daily Talks: A daily version of the TED Talks you've come to know and love. TED is a nonprofit devoted to 'Ideas Worth Spreading'. This podcast series features TEDTalks meant to inspire, intrigue and stir the imagination from some of the world's leading thinkers and doers, speaking from the stage at TED conferences, TEDx events and partner events around the world.
Stuff You Should Know: Hosts Josh Clark and Chuck Bryant investigate the tough questions- like how Twinkies work, what is the Beagle Brigade, and if zombies exist. Listen to Stuff You Should Know biweekly for a unique dose of education and entertainment.
Hidden Brain: The Hidden Brain helps curious people understand the world – and themselves. Using science and storytelling, Hidden Brain's host Shankar Vedantam reveals the unconscious patterns that drive human behavior, the biases that shape our choices, and the triggers that direct the course of our relationships.
The Tim Ferriss Show: Tim is a self-experimenter and bestselling author, best known for The 4-Hour Workweek, which has been translated into 40+ languages. Newsweek calls him "the world's best human guinea pig," and The New York Times calls him "a cross between Jack Welch and a Buddhist monk." In his show, Tim deconstructs world-class performers from eclectic areas (investing, chess, pro sports, etc.), digging deep to find the tools, tactics, and tricks that listeners can use.
Revisionist History Podcast: Revisionist History is Author Malcolm Gladwell's journey through the overlooked and the misunderstood. Every episode re-examines something from the past—an event, a person, an idea, even a song—and asks whether we got it right the first time. Because sometimes the past deserves a second chance.
This American Life: Consistently ranked amongst the top podcasts in the US, This American Life gives listeners touching, humorous and often unexpected pieces on life in America. A predecessor to NPR's wildly popular Serial podcast.
Dirty John: Debra Newell is a successful interior designer. She meets John Meehan, a handsome man who seems to check all the boxes: attentive, available, just back from a year in Iraq with Doctors Without Borders. But her family doesn't like John, and they get entangled in an increasingly complex web of love, deception, forgiveness, denial, and ultimately, survival.
The Rich Roll Podcast: If your training plan is calling for six miles or more, you'll want to fire up this podcast. The episodes are typically at least an hour long, giving you plenty of material as you tick off the miles. Rich Roll, an ultra-endurance athlete covers everything from the "spiritual road to athletic supremacy" to meditation for kids.
Ready to get started? Check out the links below to find your favorite new show. IPhone users will have the best luck using iTunes. Stitcher and Podbay are other good podcast networks that feature thousands of shows. Have a favorite? Share it with us! Additional resources, events, and training tips can be found on our website, www.health4u.msu.edu/msu-moves or on our Facebook page, www.facebook.com/MsuMoves/
www.stitcher.com/stitcher-list/all-podcasts-top-shows
Related Articles
More MSU Moves Articles