Thinking About Drinking: Tips & Tools
Counseling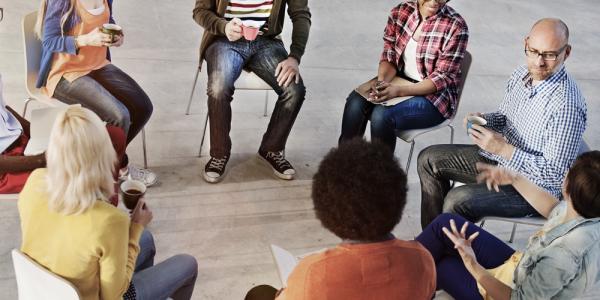 Maybe you should talk to someone?
Counseling is one of the most important ingredients in any alcohol addiction treatment program. Licensed and appropriately trained therapists may be able to help you not only to reduce your drinking, but also help resolve any other personal, relationship, or emotional problems that might be going on for you.
When seeking out a therapist to deal with a concern about drinking, look for someone who has specific experience and training in issues related to alcohol use and alcohol use disorder. Talk to your doctor for a list of local therapists that they might recommend to help you deal with your drinking. If you're comfortable, talk with friends and family members about it and ask them if they know of anyone who they might recommend; you might be surprised with how many of them actually know the name of a good therapist. Check out Psychology Today, or poke around on Google for more names. Put together a list of those recommendations and start making phone calls based on what you have learned about the providers.
When you call to make the appointment, or during your first visit with the counselor, ask them about their experience and training in substance use disorder treatment. If they are not able to tell you something about their past work with people with alcohol related issues, or if they don't have a clear plan about how they work with people with these kinds of concerns, you might want to consider calling someone else.
What is good counseling?
So much of what makes up a good experience with a counselor has to do with how comfortable you feel with your therapist, how much you trust them, and how competent you feel like they are. That said, there are a few specific techniques that tend to improve success for folks that are trying to quit drinking:

Improve motivation for recovery. Many people who have problems with drinking are resistant to entering treatment, often torn between knowing that they need to stop drinking and wanting to continue to drink. Motivational techniques help people recognize the damage that drinking is doing to their lives, encourages them to stop using, and supports positive steps toward recovery.
Teach skills for stopping alcohol use and avoiding relapse. Once someone becomes addicted, it's just hard for them to know how to stop drinking, or how to avoid relapsing if they do stop. Substance use disorder counselors teach people about why they crave alcohol, how to cope with those cravings, how to deal with feelings and situations that could trigger a relapse, and even how to prevent a minor "lapse" from becoming a major relapse.
Involving family members in treatment. Your family knows more about you than you'd probably like to admit, and they're in a unique position to provide you and your therapist with information about you that you may not even be aware of. It's also helpful for family members to learn more about alcohol dependence and addiction, so that they can learn more effective ways to talk with you and not contribute to the problem.
Alcohol Screening.org has a list of questions that you might think about asking a therapist that you're considering. Most therapists will be more than happy to answer these questions, as it allows them the chance to describe the work that they do.
This concludes our section on Thinking About Drinking: Tips and Tools. We hope that we provided you a private, non-judgmental space to explore your thoughts, attitudes, and beliefs regarding alcohol.
If you are finding that you have additional questions and are an MSU employee, consider making an appointment with one of the counselors at the Employee Assistance Program.
If you don't work for MSU and are interested in help, please see our Resources section for information about the kinds of help that's available to you in your community.
Related Articles
More ANDI Articles