Parenting Self-Help Books That Might Actually Help!
Emotional Wellness
Parenting Self-Help Books That Might Actually Help!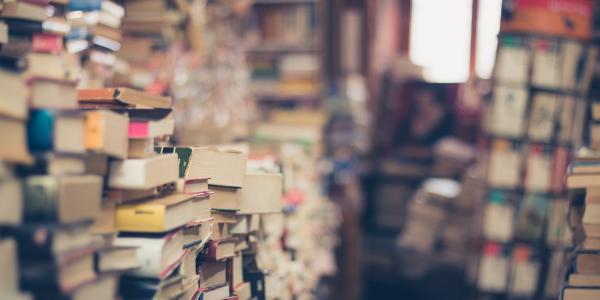 With so many parenting self-help books to choose from, it's sometimes hard to know which ones will actually help! One of our Emotional Wellness consultants provides you with a list that he recommends to his clients to get you started.
The self-help industry is a big one, estimated to bring in over $11 billion dollars each year. That's a lot of books and motivational speeches, TED Talks and inspirational retreats. And, that much choice can make for an overwhelming experience for many people. Anyone who has ever gone to Amazon and typed "anxiety" or "depression" into the search engine knows this feeling, as the computer spits back over 50,000 results for you to try to sort through just to find something that might actually… well, help.

There is no subgenre of the self-help universe where this problem is more evident than in the realm of parenting books. Last year alone saw the publication of hundreds of new books, each one expertly marketed to encourage anxious parents to believe that there's hope for them yet, and it may exist within the pages of this book.
But, how do you know which books to trust? There are books that tell you how to take charge of ADHD, and others that tell you that it doesn't even exist. There are books that tell us that if you don't breastfeed your baby, you'll be doing incalculable damage to them that cannot be undone; while others tell you not to worry about it so much, because a relaxed mom is better for a kid than one that feels guilty for not breastfeeding. Some books focus on problems. Others focus on solutions. Some focus on parents, others on kids.

What's a parent to do?

Well, dear reader, we've done a little leg work for you. Below, I have pulled together a list of my current favorite parenting books that I most often recommend to my clients, friends, and colleagues. These are books that tend to focus on the actual raising of children, dealing with issues such as providing structure, effective discipline, and what parents most need to help them understand what's actually going on with their child at various points throughout their development. These books are accessible and well researched, providing parents with practical tools while validating the challenges that all parents face without being condescending.

How to Talk So Kids Will Listen & Listen So Kids Will Talk, by Adele Faber and Elaine Mazlish. This is often considered "the ultimate parenting bible" by many, a timeless, beloved book on how to effectively communicate with your child. This bestselling classic includes fresh insights and suggestions as well as the author's time-tested methods to solve common problems and build foundations for lasting relationships, including innovative ways to cope with your child's negative feelings, express your strong feelings without being hurtful, engage your child's willing cooperation, and resolve family conflicts peacefully. I love how this books talks about the value of really making an effort to understand kids from their point of view, as this helps in how we find the best ways to communicate with them.

Parenting without Power Struggles:Raising Joyful, Resilient Kids While Staying Cool, Calm, and Connected, by Susan Stiffelman, PhD. This, without a doubt, is the book that I recommend the most to my clients. While most parenting programs are designed to coerce kids to change, Parenting Without Power Struggles does something innovative, showing you how to come alongside your children to awaken their natural instincts to cooperate, rather than at them with threats or bribes, which inevitably fuels their resistance. By staying calm and being the confident "Captain of the ship" your child needs, you will learn how to parent from a place of strong, durable connection, and you'll be better able to help your kids navigate the challenging moments of growing up.

How to Raise an Adult: Break Free of the Overparenting Trap and Prepare Your Kid for Success, by Julie Lythcott-Haims. In How to Raise an Adult, Julie Lythcott-Haims draws on research, on conversations with admissions officers, educators, and employers, and on her own insights as a mother and as a student dean to highlight the ways in which overparenting harms children, their stressed-out parents, and society at large. While empathizing with the parental hopes and, especially, fears that lead to overhelping, Lythcott-Haims offers practical alternative strategies that underline the importance of allowing children to make their own mistakes and develop the resilience, resourcefulness, and inner determination necessary for success.

Untangled: Guiding Teenage Girls Through the Seven Transitions into Adulthood, by Lisa Damour, PhD. In her New York Times best seller, Dr. Damour draws on decades of experience and the latest research to reveal the seven distinct—and absolutely normal—developmental transitions that turn girls into grown-ups, including Parting with Childhood, Contending with Adult Authority, Entering the Romantic World, and Caring for Herself. Providing realistic scenarios and welcome advice on how to engage daughters in smart, constructive ways, Untangled gives parents a broad framework for understanding their daughters while addressing their most common questions.

Raising Cain: Protecting the Emotional Life of Boys, by Dan Kindlon, PhD, and Michael Thompson, PhD. Kindlon and Thompson make a compelling case that emotional literacy is the most valuable gift we can offer our sons, urging parents to recognize the price boys pay when we hold them to an impossible standard of manhood. They identify the social and emotional challenges that boys encounter in school and show how parents can help boys cultivate emotional awareness and empathy--giving them the vital connections and support they need to navigate the social pressures of youth.

The Teenage Brain: A Neuroscientist's Survival Guide to Raising Adolescents and Young Adults, by Dr. Frances Jensen, with Amy Ellis Nutt. Dr. Jensen gathers what we've discovered about adolescent brain function, wiring, and capacity and explains the science in the contexts of everyday learning and multitasking, stress and memory, sleep, addiction, and decision-making. In this groundbreaking yet accessible book, these findings also yield practical suggestions that will help adults and teenagers negotiate the mysterious world of adolescent development.

Do you have a parenting book that you really like? If so, we'd love to hear about it. Head on over to our Facebook page and comment on this thread. If we get enough responses, we'll feature your favorite books in a future article here.

If you are an MSU employee and are concerned about your child, or would like to have a conversation with someone to talk about parenting concerns that you may be having, feel free to contact MSU's Employee Assistance Program. You can set up an appointment to talk with a licensed counselor about your concerns, who will be able to help you sort out your concerns, and explore any options you have to get your child the help that they need. Contact MSU's EAP at 517-355-4506, or eap@msu.edu.
Related Articles
More Emotional Wellness Articles