It's a 2020 Thanksgiving - Enjoy It!
Eating for well-being
It's a 2020 Thanksgiving - Enjoy It!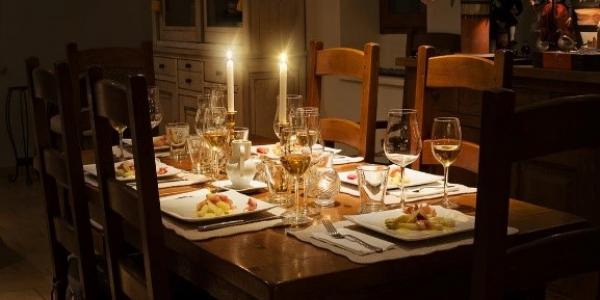 Yes, Thanksgiving might look different this year. It's time to make the most of it and share thanks with those in your "bubble." Here are some tips to perk up your day and share your best with those you've been blessed to join you in giving Thanks.
Decorate and create the holiday atmosphere. Have each guest bring a decoration or use kid creations from years past. Brighten up your dinner table with colors of fall! Make place cards for your table. Whether you are sharing dinner with 1, 2 or 10, make place cards. Have guests decorate their own, have kids write the names of family/guests, add pictures or include song lyrics with names of family or guests. This year, my family is printing off pictures of famous people that have the same name as the family member and putting them on the place card. It will create for good table conversation!
Have guests or children choose a recipe to add to the menu. Maybe you can't be with your large family for Thanksgiving, but you can bring your family recipes to your small group. Allow others to share their favorites. Assign each family member or guest to come up with an idea for the appetizer, entree, side dish, dessert or beverage. At dinner, have guests or family share why they chose that recipe.
Make cooking the meal your Thanksgiving activity. Create stations in your kitchen for others to make their recipe or work in shifts making dishes at different times of the day. Include the kids. Holidays are a great time to build traditions with your children. What better tradition than to teach them great grandma's chocolate pie recipe. Use the same ingredients she would have, tell the kids about the ingredients and your memories of the pie. Did you help make it with her? Tell them about it! Don't have a traditional family recipe? It's a great time to start your own family favorites. Pick a delicious recipe and talk with your kids about why you chose it and the ingredients in it. Young kids can help gather ingredients, watch and help clean. Let older kids measure, mix and clean.
Create a Thanksgiving playlist. Do you have a friend that is your music guru, or do you have a music loving teen at home? Have them create a playlist for the day – play it while you make the food, during the meal and for clean-up. Music is good for the soul – share it with others!
Zoom, Zoom! Can't be with family or friends this Thanksgiving? Meet them online! Let the virtual meeting platforms help ease your feelings of isolation. Eat with family and friends virtually or create a game to share. No, it's not the same as hugging your loved ones, but it is "make do" until we can again. Make it work.
Give thanks! There is no doubt that 2020 has been difficult for everyone. It is guaranteed that someone at your Thanksgiving meal has dealt with hardship of some kind this year. Recognize the struggle, share it at the meal if you want and then give thanks for the food, pet, home, clothing on your back, family or friends in front of you. Whatever your beliefs, be thankful for this day. Tomorrow will come, let Thanksgiving be a day of thanks.
Still not sure what to make for your Thanksgiving, check out our MSU Health4U Thanksgiving favorite recipes from our staff at https://health4u.msu.edu/food/articles and search for the article titled "MSU Health4U Thanksgiving Favorites."
Abby Richey, MS, RD
Related Articles
More Food and Nutrition Articles