Baked Herb Spaghetti Squash
Recipe For Health
Baked Herb Spaghetti Squash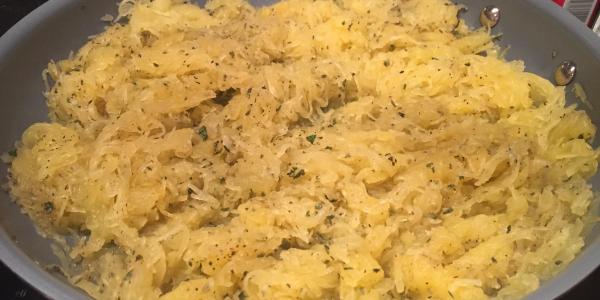 adapted by Chef Kurt Kwiatkowski
Ingredients
1 spaghetti squash (about 2 ½ pounds)
1 T. butter
1 T. extra virgin olive oil
2 T. + 1 t. mix of fresh chopped herbs: thyme, parsley, sage, and chives
1 t. salt
½ t. freshly ground black pepper
Preparation
Preheat oven to 350°.
Cut 1/8 - 1/4 inch off of ends, then cut squash in half lengthwise. Place in a baking dish cut side down. Add water to baking dish until the bottom of squash is covered (up to 1/4 of an inch). Cover top of pan with aluminum foil. Bake for 45 minutes until the squash can be easily pierced with a paring knife.
Flip squash, cover with foil and bake for 15 minutes or until tender.
Remove from oven, uncover and allow squash to cool for 10 minutes.
Remove the seeds with a large spoon and discard. Use a fork to pull the strands of squash and put them in a large bowl.
Heat a skillet and add olive oil, squash strands, herbs, salt and pepper. Mix thoroughly until spaghetti squash is warm. After squash is warm, add butter and toss until incorporated. Serve immediately.
Learn More About Spaghetti Squash
Spaghetti squash has a fun surprise inside.
Rake a fork across the coarse interior of a cooked spaghetti squash and you can't help but smile as the long strands pull apart to form a mound of squash noodles!
Fall is the time of year when spaghetti squash and other members of the winter squash family begin to make their appearance in the market. Grown in the height of the summer season, they are harvested in October. The 'winter' in their name comes from the time of year when we eat them. Also called keepers, winter squash will keep for months when stored in dry conditions at a temperature of 50° to 55°.
A golden-yellow shell on the outside is a sign of a fully ripe spaghetti squash. If it's white, it's not ripe. A few scuff marks are to be expected from a squash that's been on the vine for months, but soft spots are unacceptable. Take home a large one — the bigger spaghetti squash have the most flavor.
You can store spaghetti squash on your countertop for up to a month before moving it to cold storage. When you're ready to eat it, scrub the exterior, poke it in several places with the tines of a fork (don't skip this step or it will explode in your oven) and place it on a baking sheet in a moderately hot oven (325° to 375°) for an hour or so until it feels soft to the touch. Let it cool a bit, cut it open, scoop out the seeds and let the entertainment begin! Use a fork to rake loose the "spaghetti" down to the rind.
Even when fully cooked, the strands remain a little on the crunchy side. The mild, nutty flavor of spaghetti squash goes well with tomato sauces of all kinds. Or toss it with some olive oil and parmesan cheese…just like pasta!
Peggy Crum MA, RD
Featured Recipes
More Food and Nutrition Recipes