Recipe For Health
BBQ Glazed Salmon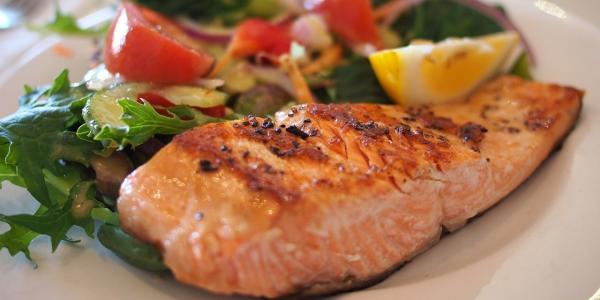 by Jill Yarbrough, Test Kitchen Manager
Ingredients
¼ c. finely diced red onion
2 t. olive oil
1 T. + 2 t. red wine vinegar
¼ c. + 2 T. pancake syrup
1 T. tomato paste
1½ t. Worcestershire sauce
¾ t. curry powder
¼ t. black pepper
6 (4-6 oz. each) salmon fillets (fresh or frozen
Salt and pepper to taste
Preparation
In a saucepan, cook onions in olive oil for 2-3 minutes. Add vinegar; simmer for 5 minutes. Add syrup, tomato paste, Worcestershire sauce, curry powder, and black pepper. Simmer until sauce has a thick consistency, like BBQ sauce.
Season salmon with salt and pepper, then grill or bake until internal temperature reaches 125 to 130 degrees F (the fish will continue to cook after being removed from the heat). Brush salmon with glaze and serve.
Learn More About salmon
Buying and preparing salmon is easier than swimming upstream, especially when you know the terminology.
Salmon are classified by their ocean of origin:
• Atlantic salmon is only one species. Most salmon labeled Atlantic is actually farm-raised. Norwegian salmon is Atlantic salmon farm-raised in Norway.
• Pacific salmon includes Chinook (king), Sockeye (red), Coho (silver), Pink, and Chum. Coho and Chinook were introduced to the Great Lakes in the 1960's. The vast majority of Great Lakes salmon begin their lives in one of Michigan's six fish hatcheries.
Salmon Prep 101:
Remove pin bones. Arch the fillet and run your fingers over the surface to find the bones. Gently pull each pin bone with needle-nose pliers.
Cook skin side down. When you do this, there is no need to flip it during cooking.
Cooking methods (see below for cooking times)
Grilling: Preheat grill to medium-high. Brush marinade lightly on the fish (flesh side only). Using tongs and a paper towel, mop the grill grate with oil. Place salmon on the grill grate. Baste every 6 to 8 minutes.
Baking: Preheat oven to 450º. Lightly grease a shallow baking dish. Place salmon fillet in prepared baking dish. Brush top and sides of fillet with butter.
Poaching: (gently cooking in broth or water at a bare simmer). Melt 2 T butter in a large pan over low-medium heat. Add 1/3 c each of chopped onion, celery, and carrots. Cover and sweat until vegetables are soft. Add 4 c water, ½ c wine, salt, and pepper. Bring liquid to slow simmer. Add fish and cook with lid on. Reserve stock for use in fish soup or stew.
Approximate cooking time by figuring 4 to 6 minutes for each ½ inch thickness of the fillet. Remove from the heat when the internal temperature reaches 125 to 130ºF, as the fish will continue to cook. Salmon is done when it flakes easily with a fork.
by Peggy Crum, MA, RD
Featured Recipes
More Food and Nutrition Recipes