Recipe For Health
Braised Radishes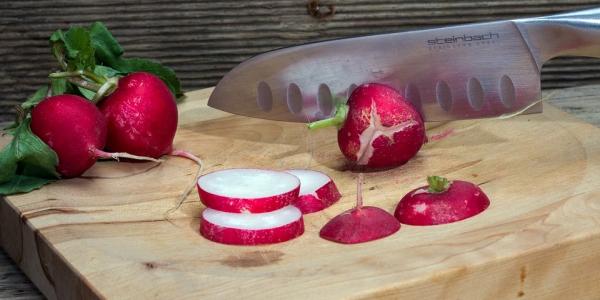 Ingredients
2 T. butter
3 T. diced shallot
1 t. minced garlic
1 lb. radishes, washed and trimmed of greens and tips
1 c. vegetable stock
2 T. heavy cream
1 T. minced chives
¼ c. fresh chopped sorrel leaves, stems removed (fresh spinach or flat leaf parsley may be substituted for the sorrel; if so, add a little lemon zest when seasoning just before serving)
Salt and pepper to taste
Preparation
Place butter in a large skillet over medium heat and then sauté the shallots for 2-3 minutes. Cut smaller radishes into halves, larger radishes into quarters. Add radishes to the pan and sauté for 2 minutes. Add garlic and sauté for 1 minute.
Deglaze the pan with the stock, scraping up the bits of vegetables stuck to the pan. Add heavy cream. Heat liquid and simmer for 12-15 minutes or until radishes are fork tender. Make sure to stir at least 2 or 3 times during braising.
Sauce should have reduced down and started to thicken, add the chives and the chopped sorrel and simmer for 2 minutes. Season with salt and pepper to taste.
Remove from heat and serve immediately.
Learn More About Radishes
Radishes come in a rainbow of colors inspiring names such as Cherry Belle, Easter Egg and Plum Purple. The red globes typically found in the grocery store are fine but who can resist the array of colors and shapes appearing in the farmers' markets in spring and early summer?
The radish is a member of the cabbage family. Similar to turnips, the greens are edible. Although we often think of the radish as a root vegetable, the colorful globe or white elongated portion actually is the swollen lower stem of the radish plant.
Small radishes are called summer varieties—somewhat of a misnomer since radishes become harsh and pithy in the heat of summer. Winter varieties (daikon is the most common) are less colorful and much bigger. All varieties, when grown quickly in cool weather, are crisp, juicy and peppery.
To assure you get home with young tender radishes, choose the ones that are solid and smooth with an unblemished surface and bright green tops still attached. With the exception of diakons, oversized radishes are often tough, stringy and strong flavored. Before you buy, gently squeeze one—if it feels spongy or gives at all, it is likely hallow or fibrous, ready for the compost pile.
Radishes keep best if you cut off the greens before storing them in a plastic bag. Refrigerated, they will keep 5 to 7 days. If you plan to use the greens, store them in a plastic bag separate from the radishes. The greens will keep only 2 or 3 days, tops.
Fresh sweet radishes need only a sprinkling of salt to enhance their peppery flavor. Most of the enzyme responsible for radish's pepperiness is found in the skin. If you get a batch that is too hot for your taste, you can peel away all or part of the skin to make them more palatable. Or cook them (inactivates the enzyme) to transform their flavor in a surprising way.
Peggy Crum MA, RD
Featured Recipes
More Food and Nutrition Recipes