Recipe For Health
Chive Compound Butter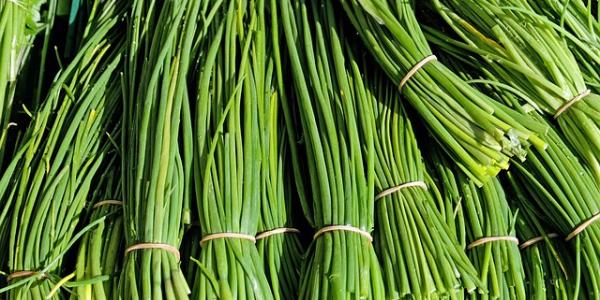 By Chef Kurt Kwaitkowski, MSU Culinary Services
Ingredients
1 lb. butter
½ c. chives
2 T. sour cream
2 T. lemon juice
Preparation
Leave butter out on counter and let it come to room temperature. Put butter in a bowl and with a mixer and a paddle attachment mix the butter with the chives, sour cream and lemon juice until whipped and mixed well.
Spread out a large (1-foot or bigger) square of wax paper across your work surface, then scoop the mixed butter onto the plastic. You are now going to roll the butter into a cylinder inside the wax paper. Twist the ends up and then put into the freezer to let it set up quickly or into the refrigerator and let it set up overnight.
Learn More About Chives
Chives are the smallest member of the onion (allium) family with bulbs so tiny you may not have noticed them. Ever wonder how they differ from scallions (green onions)? Both are alliums but chives are grown for their narrow green leaves and globes of lavender blossoms whereas scallions are grown for their bulbs and green stalks. Chives are perennial. Scallions must be replanted each spring. Scallions are mild with more of a bite than delicately flavored chives. Scallions can be cooked but not chives—their flavor seems to disappear with cooking.
Choose chives with long slender leaves and fresh purple or pink flowers. Chives typically flower in cool weather so bunches of chives in the market may or may not have flowers included. Avoid bunches with yellowing leaves or flowers with brown on the tips of the petals. To store wrap the roots in a damp paper towel, then cover the base loosely with a plastic bag, and place in the refrigerator. Chives freeze well; just slice as desired and seal in an airtight bag.
You could try your hand at growing your own. Perfect for container gardening, chives thrive just about anywhere as long as they have well-drained soil and sunshine. Cut off a few leaves at a time or a whole bunch. They like to be cut back completely, within an inch or two of the base, about every 4 to 6 weeks.
Chives have such delicate leaves that they tend to get bruised and mashed when chopped using a typical rocking motion. Instead, align chives in a bunch on a cutting board, place the tip of a very sharp knife in front of the bunch, and pull the blade slowly across them. Snipping with scissors works well, too.
Use fresh or frozen chives like any other herb. Gently stir them in at the end of cooking or sprinkle on top as a garnish. Use chive blossom petals to sprinkle on salads for a similar flavor as the leaves only milder.
Peggy Crum, MA, RD
Featured Recipes
More Food and Nutrition Recipes