Lunch Salad - 3 Different Ways
Sensible Meals
Lunch Salad - 3 Different Ways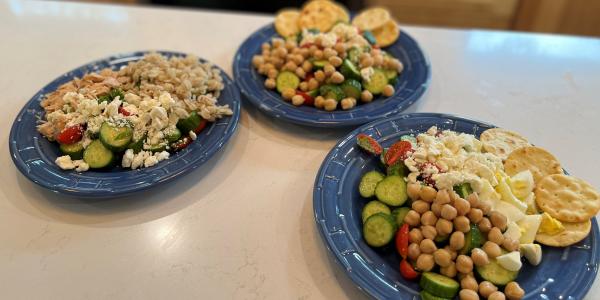 Adapted from: www.chefjulierd.com
Featured Food: Tomatoes Yield: 4-6 servings
Ingredients
Salad base:
• 8 mini cucumbers, sliced
•3 cups cherry tomatoes, halved
•2 Tbsp. Olive Oil 1
•Tbsp. vinegar or your choice (red, white, balsamic)
•1/4 cup fresh basil, coarsely chopped
•salt & pepper to taste
Extra Add-In Options:
1.Chickpeas, feta cheese & pita chips
2.Tuna, cooked barley & feta cheese
3.Hard-boiled egg, feta cheese & pita chips
4.Your choice!
Preparation
Slice cucumbers into coins and cut cherry tomatoes in half. Chop basil (or scissor cut). Combine all vegetables in a large bowl.
In small bowl, whisk together oil and vinegar. Drizzle over salad. Toss to coat. Season with salt and pepper
Store in fridge for 3-5 days.
Select optional add-ins for a filling lunch salad.
ENJOY!
Featured Recipes
More Food and Nutrition Recipes