Siu Mai Dumplings (Potstickers)
Kitchen Skills
Siu Mai Dumplings (Potstickers)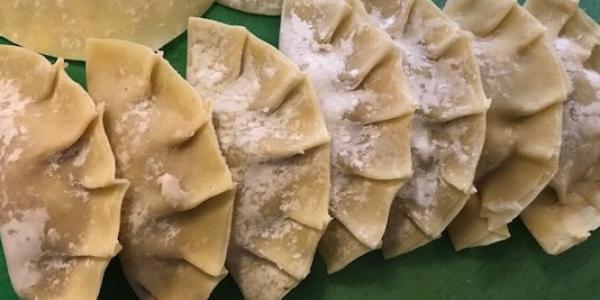 Executive Chef Dien Ly, MSU Residential Dining Services
Featured Food: Dumplings Yield: 20 Dumplings
Ingredients
2 T. finely diced Shiitake mushrooms
8 oz. bulk sausage
4 oz. 41-50 count shrimp
¼ t. Kosher salt
¾ t. sugar
1 ½ t. oyster sauce
¾ t. cornstarch
1 ½ t. sesame oil
1 pinch white pepper
10 oz. egg roll wrappers
vegetable oil
Preparation
In medium bowl, combine all ingredients except egg roll wrappers and vegetable oil. Mix well. Cover and refrigerate 4 hours or overnight.
Place egg roll wrapper on cutting board. Place a rounded teaspoon of mixture in middle of wrapper. Wet the edge of wrapper with water. Fold in half to make a half moon. Press edges together to seal. Form pleats along the rounded edge and press firmly.
Options for cooking:
Bring a pot of water to bowl. Add a little vegetable oil to the water. Place dumplings gently in the water and simmer for 7 minutes. Remove from water and reserve. Once all dumplings are cooked, toss with small amount of vegetable oil to keep them from sticking together. Serve with dipping sauce or in hot vegetable broth.

Deep fry in pan of hot oil. Don't overcrowd the oil. Remove from oil and drain on paper towel. Serve with dipping sauce.
Featured Recipes
More Food and Nutrition Recipes