Recipe For Health
Southwest Millet Bake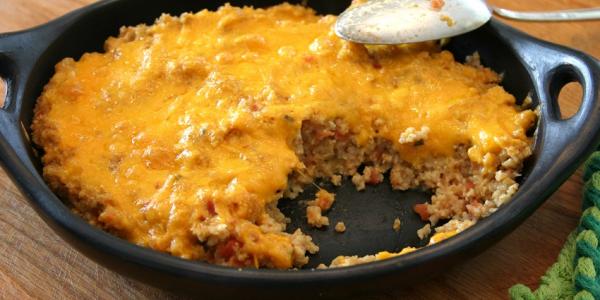 By Chef Kurt Kwiatkowski, Corporate Chef, MSU Residential Dining Services
Ingredients
3 ¼ c. vegetable broth or chicken broth
1 c. millet
2 t. cumin
1 t. chili powder
½ c. favorite red salsa
Salt and pepper to taste
½ c. shredded pepper jack or sharp white cheddar cheese
2 T. chopped fresh cilantro
Preparation
In a medium pan, bring broth to a boil and then add millet, cumin and chili powder. Return to a boil, reduce heat to low, cover and cook for about 35 minutes; stir once or twice.
Preheat an oven to 400 degrees.
Remove pan from heat, mix in the salsa. Taste for seasoning and add salt and pepper as needed. Transfer to a baking dish and top with shredded cheese, if desired. Bake in the oven for 15-18 minutes.

Remove from the oven, and sprinkle cilantro over the top and serve.
Learn More About Millet
You probably use millet this time of year. But maybe not in your kitchen. Millet is that tiny round golden seed in the mix you put in your bird feeder. One of the ancient grains, millet was cultivated over 6 thousand years ago in Asia and Africa where it continues to be a staple for human consumption.
Millet is similar to couscous in size and shape but, unlike couscous, millet is gluten free. When cooked, it's light and fluffy with an interesting variation in texture—some grains have a bit of a crunch while others in the same pot are smooth and creamy.
You can find millet in most large grocery stores. Locally, I found it at the natural food store in the bulk foods section and also in 1 ½ pound packages. Or you can order it online. It comes in several forms:
Hulled millet: Whole grain with only the outer layer removed. You can enhance millet's mildly sweet, nutty flavor by toasting it dry or in a small amount of oil in a heavy pan; stir it constantly for three minutes or until the grains are golden and you smell a nutty aroma. Then add 2 ½ cups of boiling water or stock for 1 cup of millet and cook for 25 to 30 minutes; remove from the heat, put a lid on the pan and let it steam for 3 minutes. Cooked this way, the millet grains will be fluffy and distinct. If you want your finished product to have the texture of mashed potatoes, stir frequently and add more water as it cooks.

Millet grits: A high protein breakfast cereal, grits cook in half the time as whole grain millet.

Millet flour: Adds a creamy color and cake-like texture to baked goods. Substitute for all or part of the wheat flour.

Once you try it, I think you'll agree that millet is not just for the birds.
By Peggy Crum, MA, RD
Featured Recipes
More Food and Nutrition Recipes