Eating for well-being
Vegetarian Taco Salad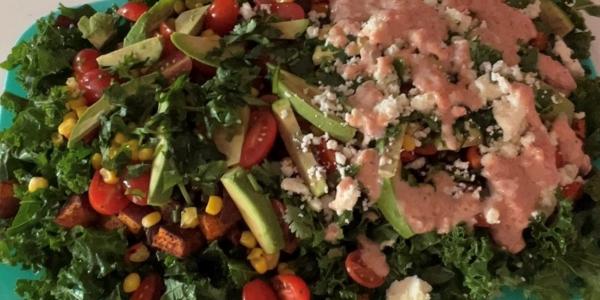 www.thehealthyepicurean.com
Featured Food: Black-Eyed Peas Yield: Serves 4
Ingredients
Salad:
1/2 t smoked paprika
1/2 t ground cumin
1/2 t coarse salt
1/4 t ground black pepper
2 large, sweet potatoes, peeled and diced
2 t olive oil
3-4 c salad greens, chopped
1/2 c cilantro leaves
6-oz can Mexican corn, drained
1/2 c black beans, rinsed & drained
1 avocado, pitted and sliced
1 pint cherry tomatoes, halved
1 cup shredded sharp cheddar
Dressing:
Jar of salsa and Ranch dressing
Preparation
Preheat oven to 400 degrees. In small bowl, combine all seasonings. Place diced sweet potato chunks on baking sheet. Drizzle with oil & sprinkle with seasonings. Mix until sweet potatoes are evenly coated with oil and spices. Bake for 15-20 minutes, until potatoes are fork-tender & crispy on the outside.
To make salad, place greens & cilantro in a large bowl or on a platter. Top with sweet potatoes, corn, black beans, avocado, tomatoes, cheese & tortilla chips.
Combine equal parts salsa and ranch salad dressing. Drizzle salad with fresh lime juice or salsa ranch dressing.
Featured Recipes
More Food and Nutrition Recipes