Eating for well-being
Learning From a Toddler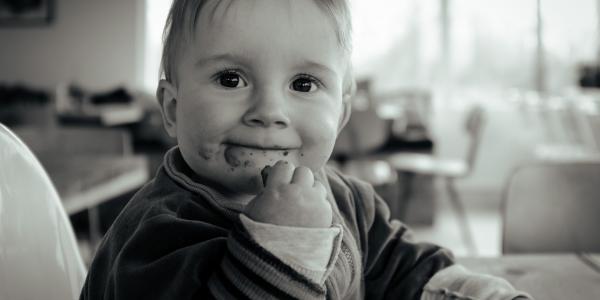 Toddlers are pretty wise when it comes to eating. We could learn a thing or two.
A Fine Example of How To Eat
My favorite seat at any restaurant is one with a view…of a toddler. I just love to watch the self-assuredness toddlers demonstrate as they approach food. It is a reminder to me that we each have within ourselves the ability to eat in a way that supports us and gives us pleasure. After all, we were all toddlers once upon a time! Now, as adults, that ability may be buried beneath lots of rules—shoulds and shouldn'ts. Tuning in for a few minutes of toddler-viewing, it's a good reminder that adults have a lot to learn… or re-learn.
A memorable dining experience with a toddler-view was at our favorite Thai restaurant. My husband and I were assigned a table near a family who was already seated with their little girl in a wooden high chair that was pulled up to the table. They had placed their order and before long, tofu soup arrived. The soup, it seemed, was strategic, something served quickly to appease their hungry daughter. But tofu? Quickly, the papa spooned out tofu onto a plate to cool. Toddler fussing ensued intermixed with excitement. It's really hard to wait when you're hungry!
The plate was placed in front of her and was quickly cleared with tofu-clenching fist-to-mouth movements. Yes, tofu! She had experience with tofu. She kept her parents busy as they replaced the bite-size cubes of tofu with more.
Soon more dishes of food were brought to the table. Little daughter delighted in rice and vegetables and small pieces of chicken. She ate what she wanted, more of some items and less of others. Her wise parents kept replacing the foods she cleared with more of the same. Suddenly, without warning, she stopped eating. She played with the food—some went onto the table and some dropped to the floor. All done, her plate was removed and she moved from lap to lap until the parents were all done, too.
What makes the toddler such a wise eater? She knows what and how much she needs for her body and she is unwavering in her determination to get it. Just that—enough and not more. From the beginning to the end of the meal, a toddler is a model of eating well. We can learn a lot by just watching.
Related Articles
More Food and Nutrition Articles