Fun Fitness
Embrace the Elements and Get Outside this Winter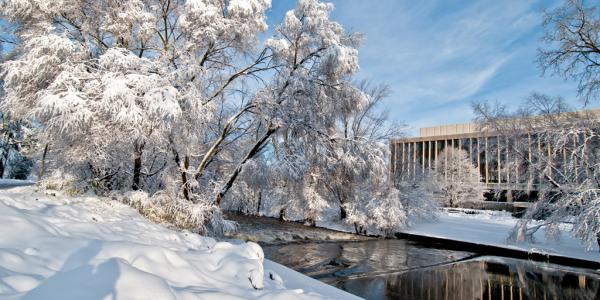 With a little planning and a good attitude, you can stay active outside this winter- and actually enjoy it!
Recently I was chatting with a few friends about how this November had felt especially cold in Mid-Michigan. My musings on early snowfall and unseasonably cold weather were purely anecdotal, until I came across a December 5th MLive article that supported my observations. To wit:
"November 2018 was a very cold month in Michigan when we compare it to long-term averages. Most cities were significantly colder than a typical November.
Kalamazoo, Jackson and Lansing all had very cold Novembers, with the deviation from normal right around six degrees colder than average.
So far the abnormal cold is continuing into December."
You probably didn't want to read that, but I'm just the messenger. The point is, Midwestern winters are tough. And to be fair, Midwestern people are just as tough. But grit and fortitude aside it's easy to fall into a fitness rut when the weather turns frightful. If you think about it, that's probably only natural. Bitter temperatures, early sunsets, and slick walkways are all factors that could contribute to lower activity levels and a general feeling of melancholy during the winter months. How do we combat this? I brainstormed a few solutions: Become a snowbird and take the RV to Arizona for the winter. Find a cozy nook with a stack of books and hibernate until April. Pass a millage to build a giant temperature-controlled dome over East Lansing.
Obviously not all of my ideas are winners. So rather than being in a state of denial all winter, why not accept the weather and plan accordingly? After all, there's nothing you can do to change it! There are plenty of ways to stay active outside, and I'm going to share some of my favorites in a moment.
But first, we should talk about safety. It's always important to consider safety when being active outdoors, and that is especially the case in the winter months. Here are a few points to consider:
• Check the forecast (including wind chill) before heading out. If the temperatures or wind chill are especially severe, you may want to consider staying inside and doing a circuit workout. In this case, the expression "discretion is the better part of valor," holds true.
• Once you've determined it's okay to go outside, you'll want to be on the lookout for icy sidewalks. Michigan State's campus is a great place to walk or run in the winter, because the walkways are well maintained by the folks with MSU Infrastructure, Planning and Facilities (MSU also has some heated sidewalks throughout campus).
• Warm up before heading out. A light warmup will get your blood pumping, prepare your body for exercise, and lower the risk of muscle strains.
• Dress appropriately: There are a few components to this. First, dress in layers. Your base layer should be thin and moisture-wicking, like an athletic shirt. Avoid cotton if possible, as it absorbs moisture. A mid-layer, like a sweatshirt or fleece, goes on next. Finish your ensemble with a waterproof coat, but avoid heavy coats that may cause overheating. Overheating in a heavy coat will make you sweat more than necessary. That sweat evaporates, pulling heat from your body and making you feel colder in the process. Bottom line, avoid the big puffy jacket and stick with layers.
• Consider wearing a scarf or ski mask over your face to combat the sting of cold air in your lungs. Gloves and a hat are also a must. If your hands or head get too warm, you can always stash the gloves/hat in a pocket. If you don't bring them along, the chances of being cold and miserable go up exponentially. Finally, wear shoes or boots that have good grip, support, and insulation.
• Drink plenty of fluids. The cold, dry air will sap the moisture out of your body before you've even noticed you were thirsty. Even in winter, it's critical to stay hydrated.
• Learn to recognize the signs of hypothermia and frostbite, and take the necessary precautions to protect against them.
• If you have asthma, a heart condition, or any other cardiorespiratory issues, speak with your doctor before starting cold-weather activities.
Now that you know how to stay safe, let's get to the fun stuff: outdoor activities to keep you moving when the mercury falls. These are just a few of my favorites:
• Go for a walk or run. If you already run or walk regularly, keep it up! If you're just starting, go for shorter walks to begin with- 15 minutes or so is plenty. As you become more fit, you'll be able to walk/run further and faster. If you're in the Lansing area, consider participating in the Blue Cross Winter Warm Up couch-to-5k training program, which is free and open to community members of all ages and abilities.
• Cross Country Skiing is perhaps the pinnacle of endurance sports. Olympic cross-country skiers have some of the highest levels of fitness in the world, comparable to and often above that of elite marathoners. The good news is, you don't have to be an Olympian to benefit from the sport. Cross county skiing is an excellent full-body workout, regardless of your age, ability, or fitness. This is also a great way to enjoy some quiet reflective time in nature.
• While it won't provide the same cardio 'punch' as it's flatland cousin, Downhill Skiing is a great way to improve your fitness while having a blast. Downhilling involves several elements of movement, requiring a combination of endurance, strength, coordination and balance.
• A day spent Snowshoeing provides many of the same fitness benefits of cross-country skiing, but doesn't require the same level of technical mastery or equipment investment. You can also snowshoe just about anywhere that there is snow, while cross-country skiing is usually done on designated trails. This makes it a great choice for families.
• Shoveling Snow combines strengthening movements and muscular endurance. Yes, it's a chore, but the upside is you'll get in some activity while crossing a task off your list, which is always a win-win.
• Growing up, Sledding was one of my favorite activities. I went again a few years ago with some friends, and you know what? It's still a riot. Sledding is perfect for the whole family- it requires little equipment, you don't need much snow, and just about any age can participate. The fitness element is built-in since you have to walk back up the hill to take another ride.
• Chopping Wood is one more dual-purpose activity, supplying heat to both your home and body. It combines elements of strength, speed, and coordination. You'll also have a great feeling of accomplishment when finished, because chopping wood is hard work. There's obviously some risk involved here, so you'll want to avoid brandishing an axe if you're not comfortable using the tool safely. Kids can help carry and stack wood, but should be kept clear of the chopping zone.
There you have it, a few ideas for staying active during the winter months. A little preparation and a good attitude can go a long way in the fight against winter. How do you stay moving when the temperatures fall? Follow MSU Moves on Facebook and let us know!
Related Articles
More MSU Moves Articles