Baked Salmon with Roasted Corn, Bean and Squash Relish
Culinary Cooking and Concepts
Baked Salmon with Roasted Corn, Bean and Squash Relish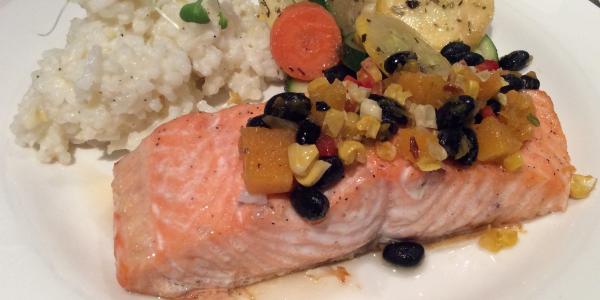 Chef John Findley, Executive Chef at The University Club of MSU
Featured Food: Salmon Yield: serves 4
Ingredients
4 (6 oz. each) salmon fillets
¼ c. olive oil, divided
¼ c. fresh or frozen corn
¼ c. canned black beans, rinsed and drained
½ c. butternut squash, peeled, diced and cooked
¼ red pepper, diced
1 scallion, diced
Salt
Pepper
Preparation
Preheat oven to 400 °F.
In a small bowl, gently toss 2 Tablespoons of olive oil with the corn, beans, squash, salt, and pepper. Prepare 2 baking tray by coating with non-stick cooking spray. Spread vegetables on one tray and place in oven for 10-15 minutes, stirring once. Remove from the oven and cool. Mix in red pepper and scallion.
Place salmon fillets on the other prepared baking tray. Sprinkle with salt and pepper and drizzle with 2 Tablespoons of olive oil. Place in the oven and bake for 9 to 13 minutes until done.
Serve the fish topped with the vegetable relish.
Featured Recipes
More Food and Nutrition Recipes