Recipe For Health
Grilled Polenta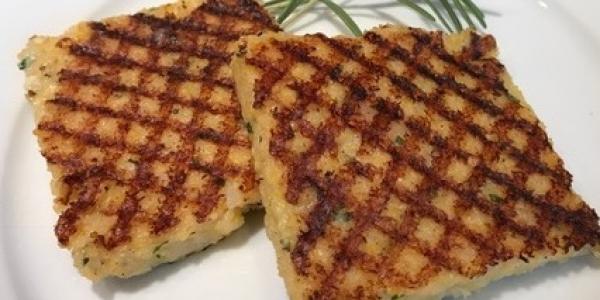 Ingredients
2 T. extra virgin olive oil
½ medium red onion, small diced
2 cloves garlic, finely minced
2 c. chicken or vegetable stock, preferably homemade
1 c. whole or 2% milk
1 ½ t. sea salt (or 1 t. kosher salt or ¾ t. table salt)
1 c. polenta (coarse grind yellow cornmeal)
1 t. freshly ground black pepper
½ c. freshly grated Parmesan cheese
2 T. unsalted butter
1 T. fresh chopped thyme (or ½ t. dried thyme)
1 T. fresh rosemary (or ¼ t. dried rosemary)
1 T. fresh chopped parsley
Olive oil, for brushing
Preparation
In a large heavy saucepan, heat the olive oil over medium low heat. Add the red onion and sauté, stirring constantly, for about 3 minutes, or until softened. Add the garlic and cook for 1 minute more. Add the chicken stock, milk, salt, and pepper then bring to a boil over medium high heat. If using dried herbs, add them at this point. Reduce the heat; when the liquid is simmering, gradually sprinkle the polenta over in a very slow, thin stream, whisking constantly in the same direction until all the grains have been incorporated and no lumps remain. Reduce the heat to very low.
Switch to a wooden paddle and stir thoroughly every 1 or 2 minutes for 15 to 20 minutes, or until the mixture pulls away from the sides of the pan and the grains of polenta have softened. Stir in the parmesan cheese, fresh herbs and butter. The mixture will be quite thick. Add salt to taste.
Spray an 8 x 12 inch roasting pan or glass baking dish with cooking spray. Mound the polenta into the pan; using a rubber spatula repeatedly dipped in very hot water, spread the polenta evenly in the pan. Cover with a kitchen towel and allow to rest for 2 hours at room temperature or up to 24 hours in the refrigerator.
When ready to serve, preheat a non-stick sauté pan to medium high heat. Brush the pan with oil. Cut the polenta into 8 equal squares and brush them with olive oil. Transfer the squares to the pan and grill for about 6 minutes on each side, or until deep golden brown. Serve immediately.
Learn More About Cornmeal
When I was growing up in Indiana, my mother used cornmeal in several dishes—cornbread, baked in an iron skillet; mush, browned in an iron skillet; and breading for fish, yes, fried in an iron skillet! I must admit, mush wasn't my favorite. Could it be the name was a bit off-putting?
Cornmeal by any other name:
This list should help you de-code an otherwise simple ingredient.
Fine grind cornmeal also called corn flour.

Medium grind cornmeal is the most versatile. If the label says "cornmeal," you're getting medium grind.

Coarse grind cornmeal also called grits.

Grits is cornmeal cooked in water or milk to make porridge.

Mush is made by cooling grits until it "sets up," slicing it, then cooking it again to add crispness to the exterior.

Polenta is the Italian name for coarse-grind cornmeal. When polenta (cornmeal) is cooked, it's still called polenta (why mess with a good name?).

Hominy is corn that has been soaked in an alkaline-water solution to remove the germ and hull. Several cornmeal products are made from dried hominy, giving them a distinctive flavor: Hominy grits is course-grind cornmeal made from dried hominy.

Masa is moist dough made from finely ground hominy. Used to make corn tortillas, tamales and pupusas.

Masa harina is flour made by drying fresh masa to make it shelf-stable.

Dried corn is ground into cornmeal in two different ways. Steel-ground, a process that completely removes the hull and germ, results in a cornmeal that will store almost indefinitely in an airtight container on your pantry shelf. Stone-ground results in a whole grain cornmeal; more perishable than steel-ground; it needs refrigeration and can be kept up to 4 months.
Wherever there's cornmeal, there's versatility. Cook it in water, milk, or broth. Make it into breads, cakes or muffins. Use it to coat fish, meat or vegetables. Sprinkle it on the pan to keep dough from sticking. Cornmeal is truly THE all-American grain.
Peggy Crum MA, RD
Featured Recipes
More Food and Nutrition Recipes