Recipe For Health
Hearty Lentil Soup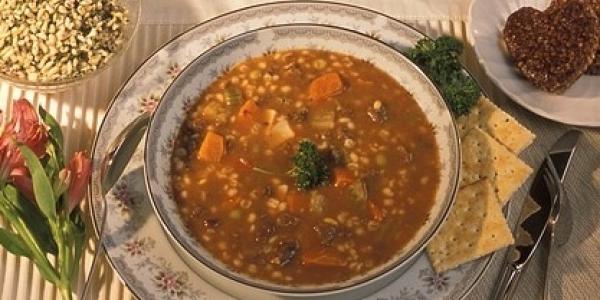 by Jill Yarbrough, MSU Test Kitchen Manager
Ingredients
½ c. lentils
1 qt water
1 T. + 1 t. vegetable base
1 c. crushed or diced tomatoes
½ c. diced carrots
¼ c. diced onions
⅛ c. diced celery
¾ t. minced garlic
1 bay leaf
½ t each basil and oregano
¼ t. thyme
⅓ c. brown rice
1 ½ t. cider vinegar
salt to taste
black pepper to taste
chopped fresh parsley as garnish
Preparation
Spread lentils on flat surface; pick out damaged lentils, stones or other foreign matter. Pour in strainer and rinse until water runs clear.
In a pot, add water, vegetable base, vegetables, and herbs to lentils. Bring to a boil, and let simmer uncovered for 30 minutes or until lentils are soft.
Meanwhile, cook brown rice according to package directions.
Stir in cider vinegar and parsley. Add cooked brown rice, and let simmer for 5 minutes.
Season with salt and pepper as needed. Adjust spices if desired. Remove bay leaf before serving.
Learn More About Lentils
Lentils are lens-shaped pulses. Often referred to as legumes, pulses are actually the seeds of legumes, dried in the field and then harvested solely for the grains found within the pod. Other pulses are beans, peas, and chickpeas. The name pulse derives from Latin puls and means "thick soup."
Soup, however, is not the end of the line for lentils, which lend themselves well to a variety of culinary uses. Lentils are considered the "convenience" pulse since they do not require soaking, and they are quick and easy to cook. This is just a short list of the many types of lentils. Choose the right lentil for your recipe by considering its traits:
Black beluga lentil: Glistens when it's cooked, which makes it look like beluga caviar. Great in soups or salads.
Brown lentil: Standard grocery store lentil, tends to get mushy if overcooked. To help lentils keep their shape, add oil to the cooking water and shorten cooking time to 15 minutes.
French green lentil: renowned for remaining firm when cooked, it has a delicate texture and a rich flavor and takes a few minutes longer to cook.
Red lentil: Cooks fast and turns from salmon-pink to golden-brown. Best in purées or soups.
Black lentil: Strong, earthy flavor. Often used in curries.
Urad dal or white lentils: Skinned and split black lentils, they are creamy white and mild in flavor.
Nature designed lentils to come alive with the flavors of a variety of seasonings. Create a combination that works with your individual taste.
Peggy Crum MA, RD
Featured Recipes
More Food and Nutrition Recipes