Roasted Pork Loin with Peach and Cranberry Relish
Culinary Cooking and Concepts
Roasted Pork Loin with Peach and Cranberry Relish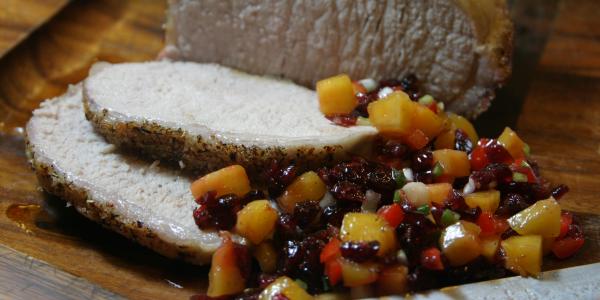 by Chef John Findley, Executive Chef, The University Club of MSU
Featured Food: Pork Yield: Serves 6
Ingredients
2 lb. boneless pork loin
Salt, pepper, garlic, herbs for pork
1 peach pitted, peeled, and diced
4 oz. dried cranberries
1 scallion, diced
¼ red pepper, diced
1 oz. olive oil
Preparation
Preheat oven to 375 degrees. Put pork loin on a tray with a baking rack.
Season pork with salt, pepper, garlic and herbs. Place in oven for 30 minutes at 375. Turn oven down to 325 and roast for another 15-25 minutes or until pork has reached an internal temperature of 150 degrees.
Remove from oven and let set for at least 10 minutes. Carve and serve.
For the relish: use a small mixing bowl and add peaches, cranberries, scallions, pepper, and olive oil. Mix well and season with salt, pepper, and garlic to taste.
Featured Recipes
More Food and Nutrition Recipes