Steel Cut Oatmeal with Pure Maple Syrup
Recipe For Health
Steel Cut Oatmeal with Pure Maple Syrup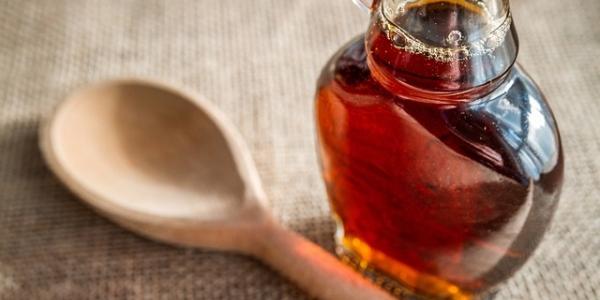 from the kitchen of the MSU Residence Halls
Ingredients
4 c. water
¼ t. salt
1 c. steel-cut oats
¼ c. pure maple syrup
2 T. honey
1 t. cinnamon
¼ t. nutmeg
1 T. ground flax seed (optional)
1 T. butter
Preparation
Serve with:
Milk
Dried Cranberries
Chopped pecans
In a large sauce pot, bring water to a boil and then stir in salt and steel-cut oats. Let boil for 8-10 minutes, stir frequently. Turn heat to low and simmer uncovered for 20 minutes, stirring occasionally.
Stir in maple syrup, honey, cinnamon, nutmeg and ground flax seed and continue simmering for another 10 minutes. Add the butter and taste. Adjust seasoning as desired.
While oatmeal is simmering, you can place your pecans in a non-stick sauté pan and lightly roast over medium heat, stirring frequently so they do not burn. Toast for about three to five minutes or until they start to give off a nutty aroma.
At this time, you can reserve in your refrigerator and hold for up to five days, or portion out the amount you want to eat and add toppings.
Heating up one portion:
Place the cooked oats in a sauce pot and put over medium heat.
Add milk to the oats and stir until incorporated, heating until oats are hot (higher than 165 degrees)
Place the cooked oats into a bowl and garnish with dried cherries and toasted pecans.
Learn More About Maple Syrup
The freezing and thawing conditions of late winter make a sloppy mess that we Michiganders must tolerate until spring arrives. But in the sugarbush (sugar maple forest), fluctuating temperatures is just the ticket to get the sap flowing—the official start of maple syrup season.
While the hobbyist may use the old-fashioned bucket method for collecting sap, commercial maple syrup producers have devised a sophisticated system of taps, tubes and pumps to transport maple sap from tree tap to collection vat. In the sap house, heat is applied causing the sweet water (2% sugar) to evaporate into amber syrup (67% sugar). One tree tap yields about 10 gallons of sap, enough to make a quart of maple syrup.
Pure maple syrup, a natural sweetener with a distinctive flavor, must be categorized and labeled according to the USDA grading system. The process of making sap into syrup is the same for all grades. The differences come from the sap itself. Later sap flow contains less sugar than early flow requiring a longer boiling time to make syrup. Longer boiling time caramelizes the color, concentrates the minerals and intensifies the maple flavor. Although the current category names suggest a difference in quality, grade has much more to do with color, flavor and consumer preference. Therefore the grade names will change in 2013 to golden (very delicate in flavor), Amber (mild flavor)…. Etc.
Current Grade Names As of 2013 Maple Season Maple flavor
Grade A Light Amber Golden Very delicate
Grade A Medium Amber Amber Mild
Grade A Dark Amber Dark Full-bodied
Grade B Very Dark Hearty, robust
Drizzled on pancakes and waffles, maple syrup has traditional appeal. Its earthy sweetness complements baked beans, oatmeal and winter squash. Maple syrup makes a simple glaze for baked ham and broiled salmon. In recipes for baked goods, you can replace 1 cup of sugar and 3 Tablespoons of liquid with ¾ cup of maple syrup.
Peggy Crum MA, RD
Featured Recipes
More Food and Nutrition Recipes