Sweet Potato, Nut, & Cherry Salad with Cranberry Vinaigrette
Culinary Cooking and Concepts
Sweet Potato, Nut, & Cherry Salad with Cranberry Vinaigrette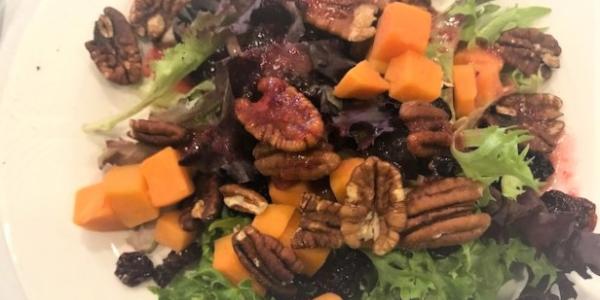 Chef John Finley, Executive Chef, University Club of MSU
Featured Food: Thanksgiving Yield: Serves 10
Ingredients
Cranberry Vinaigrette:
1 c vegetable oil
¼ c champagne vinegar
1 T Dijon mustard
1 T water
2 T sugar
1 c cranberries, ground in food processor
Salt, pepper
Salad:
2 sweet potatoes, diced and cooked
1 c dried cherries
½ c pecans, toasted
20 oz mixed greens
Preparation
For the vinaigrette:
Blend all ingredients in a blender or food processor. Taste, chill and serve.
To assemble the salad:
Mix the potatoes, cherries and pecans together in a medium bowl. Place the mixed greens onto 10 plates and top with the sweet potato mix. Drizzle the cranberry vinaigrette over the top and serve.
Featured Recipes
More Food and Nutrition Recipes