Kitchen Skills
Knife Safety and Skills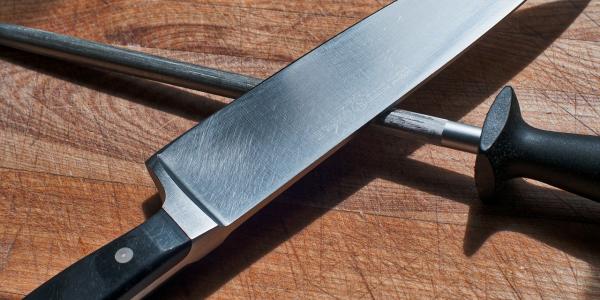 Using the right knife for the job and proper technique makes chopping, slicing and mincing easy--like a hot knife through butter!
Basic knives in the kitchen

Rather than getting a whole set of knives, it's best to buy 2 or 3 good knives and the equipment to keep the blades honed and sharp.
French or chef's knife—an all-purpose knife used for chopping and slicing.

Cook's Illustrated recommends Victorinox Fibrox 8-inch Chef's Knife (model number 40520J) for about $35 on Amazon. This basic, inexpensive blade has a sharp, slim blade that curves gently at the tip for good rocking motion during chopping, and its comfortable nonslip handle and excellent overall balance make it a kitchen workhorse.

Paring knife—a short knife used for detail work with fruits and vegetables. Blade is rigid, usually 4 inches long. Cook's Illustrated recommends Victorinox Fibrox 3 ¼ inch Paring Knife (model number 4066) for about $6 at Cutlery and More.




Bread knife—a knife with a long, thin serrated blade used to saw through crusty breads and soft delicate foods like cake and soft breads. Cook's Illustrated recommends Victorinox 10 ¼-inch Curved Blade Bread Knife, Black Fibrox Handle (model number 40547) for about $50 on Amazon.



Related Articles
More Food and Nutrition Articles