Thanksgiving Turkey (and Sides) Tips
Kitchen Skills
Thanksgiving Turkey (and Sides) Tips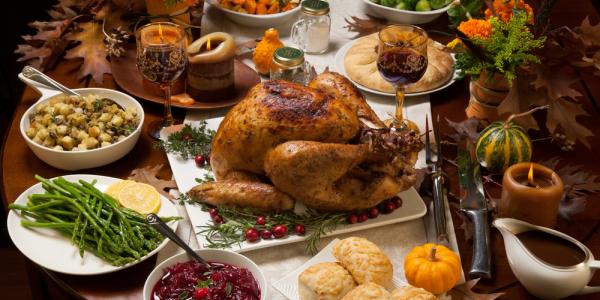 (It seems timely to re-post this article from November 2018) Be kind to your guests and to yourself. Make sure to handle and cook your turkey and the sides properly.
Food is the centerpiece of holiday gatherings, none more so than Thanksgiving. If you're in charge of the turkey this year, here are a few safety tips:
Thaw: If you bought a frozen turkey, and you plan to roast it on Thursday, move it to the refrigerator on Monday or Tuesday depending on its size. Here's the calculation: allow 24 hours for every 4 to 5 pounds of turkey weight. Fresh turkey can be stored in the refrigerator for 1 to 2 days before cooking.
Handle: Raw poultry and its juices can contaminate anything they touch. For thawing, store the turkey on the lowest shelf of the refrigerator with a pan underneath it. Do not wash your turkey! Washing is not necessary and doing so just spreads bacteria.
Separate the raw turkey from other fresh foods, not only in the fridge, but also in preparation. Wash items that touch raw meat with soap and warm water before using them again.
Cook: Your turkey may be beautifully browned and lovely. But until it reaches 165 degrees F, it's not safe to eat. Check the temperature with a food thermometer in 3 places: the thickest part of the breast, innermost part of the wing, and innermost part of the thigh. If you put stuffing in the turkey, check the temperature in the center of the stuffing, too. Let rest for about 20 minutes before removing the stuffing and slicing. For more details on roasting, refer to this article.
Sides: Unless you feel strongly about stuffing being stuffed, think of it as dressing and bake it separately from the turkey. This makes it easier to be sure it's thoroughly cooked.
Leftovers: Many of us look forward to eating leftovers. Make sure the turkey and all of those wonderful sides are safe to eat by storing them in the refrigerator soon after finishing the meal - aim for 2 hours or less. Leftovers are safe to eat for 3 or 4 days. Reheat hot (165 degrees F) or serve cold (less than 40 degrees F).
Wishing you a safe and happy Thanksgiving!
Related Articles
More Food and Nutrition Articles