Grilling 101: Rubs & Marinades
Kitchen Skills
Grilling 101: Rubs & Marinades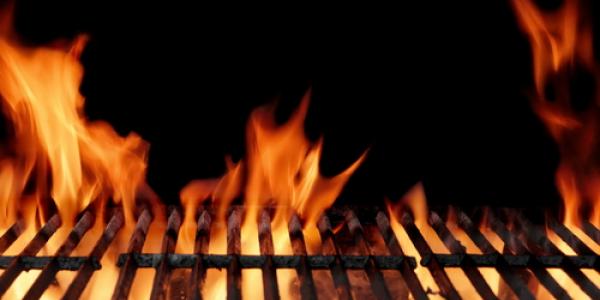 Nothing says summer like cooking outside, which may harken back to our primitive nature. Over the years, we've added grills and gadgets but the concepts are the same. Build fire. Put food over it. Cook until done. Enjoy rich smoky flavor.
To enhance the flavor that grilling brings to the table, consider one of these techniques.
The Rub
It's all about the rub. Think of it as a flavoring blend. Chef Kurt Kwiatkowski's advice is to apply your favorite rub on meat, poultry, fish, vegetables, or tofu and let it sit in the fridge overnight. This process draws out some of the moisture and creates a coating that gets crusty and delicious over the fire.
Chef Kurt's Rib Rub
½ c light brown sugar
3 T chili powder
3 T cumin
2 T paprika
1 T kosher salt
1 T dried oregano
2 t onion salt
2 t granulated garlic
1 t dried thyme
1 t ground black pepper
1 t cayenne pepper
1 t curry
1 t dry mustard
To make the rub, mix all dry ingredients in a bowl and reserve until needed. You may want to make enough for the entire grilling season. Store in a tightly sealed container. Use dry or wet. Mix with a little oil, lemon juice, prepared mustard, and fresh garlic or ginger to make a wet rub.
The Soak
Marinating is the process of soaking food in a seasoned liquid to add flavor and to tenderize. Marinades are a combination of herbs, seasonings, oil, and an acid ingredient, which helps to tenderize the food.
The easiest marinade is to mix together what you have on hand. Think flavor, acid, and oil. For flavor, crush a few cloves of fresh garlic and put in a gallon zipper bag along with whatever fresh herb you have on hand—maybe some cilantro or thyme. Add the acid ingredient—say a little leftover white wine—and oil, plus a little salt and pepper to taste. Add the food you want to grill, seal the bag, and put in the fridge overnight.
Marinades may be the traditional flavors of a cuisine such as Chef Kurt's Marinade for Tacos al Pastor, a Mexican taqueria staple.
Marinade for Tacos al Pastor
¾ c pineapple juice
2 T canola oil
¼ c white vinegar
3 chipotles + 1 T adobo sauce from the can
2 guajillo chilies (ground up dry in a spice grinder or soaked in water for 30 minutes then blend along with other ingredients)
3 cloves of garlic
1 t oregano
1 t. cumin
1 T tomato paste
¼ c fresh cilantro
2 t kosher salt
Place all ingredients in the bowl of a food processor or blender. Blend into a marinade paste. Add a little water if it seems too thick. Put marinade and food (Tacos al Pastor are typically made with pork) in a gallon zipper bag and refrigerate overnight.
4 best practices for grilling according to America's Test Kitchen:
Locate your grill at least 10 feet from any structure and place it on a flame resistant surface. For instance, a driveway or stone patio is a great location whereas grass or wooden deck is not.
Clean your grill regularly, whether gas or charcoal, more than just brushing the grate. Otherwise, food matter can build up and ignite giving off-flavors to the fresh food you're grilling.
Food safety is top priority. Always use separate platters for raw and cooked foods, throw out extra (used) marinade, and brush on sauce after the meat is done cooking (to keep the basting brush from being contaminated by the uncooked meat).
Prep food carefully to avoid flare-ups on the grill. For instance, trim excess fat from meat and pat marinated foods with paper towels before putting them on the grill.
For more tips on grilling, consider ordering Master of the Grill or check out Primal Grill with Steven Raichlen.
Related Articles
More Food and Nutrition Articles