Kitchen Skills
Pizza Perfection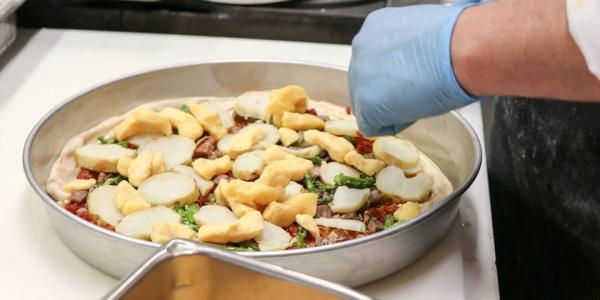 Making pizza to your liking takes a little practice. Start with the dough, add sauce and toppings of your choice, and bake to perfection.
The "best" pizza is in the eye of the beholder. There are those who love the classic cheese pizza, those who like pies piled high with vegetables, and pizza lovers who like unusual ingredients such as fish, mashed potatoes, or chocolate. Although preference for pizza is subjective, there are key components that can take any pizza to the next level. Chef Jason Strotheide along with Chef Ryan Barlow gave step-by-step instructions on how to create the perfect pizza during a recent Kitchen Skill Drill, a Health4U program in partnership with MSU Culinary Services. The chefs pleased the audience with 7 different combinations to sample.
Chef Jason stressed the importance of two key ingredients in a pizza, no matter the toppings: great pizza dough and the perfect sauce. Starting with the dough, it's important to decide whether the crust be thin or thick and then crispy or chewy. He provided his favorite pizza dough recipe that features bread flour and honey.
He also provided a pizza sauce recipe that he believes is the best sauce that anyone can find. His recipe uses San Marzano tomatoes and fresh herbs. If an alternative sauce is preferred, consider pesto, BBQ sauce, Alfredo sauce, or simply olive oil.
When it comes to pizza dough, the recipe is important, but so is the technique. Begin with mixing the dough early enough to allow for a good rest--cover it and leave on the counter for several hours! There are various ways to construct a round pizza: hand stretching, hand pressing, rolling, or hand tossing. Hand pressing may be the easiest technique, but still requires a bit of practice. Hand stretching, rolling, and tossing require expert technique--like any skill, you get better the more you do it.
To hand press a pizza, have the ball of pizza dough ready and prepare a floured work surface. Flour the ball of dough and then mold the dough into a flat, round shape. Starting in the center, use your fingers to push dough out, making the disc size bigger and forming an outside ring about one-inch thick. Pick dough up with fingers, holding it up with the ring edge and slowly spin. This will cause gravity to stretch the pizza dough. Once it's the size you want, it's ready for sauce, cheese, and toppings!
Chef Jason's pizza topping combinations
Stone Pizza: Hand stretched dough baked on a pizza stone.

Chicken, golden beets, granny smith apples, rosemary, and goat cheese

Herb-roasted Yukon potatoes, grilled asparagus, caramelized yellow onion, Swiss cheese, goat cheese
Sheet Tray Flatbread: Rolled dough baked on a sheet tray.
Portabella mushrooms, sweet peppers, fresh herbs, ricotta cheese
Sweet peppers, grilled zucchini, spicy ginger pineapple, no cheese
Cast Iron Deep Dish: Hand pressed dough baked in a cast iron skillet for the perfect deep dish pizza.
Pepperoni, provolone, mozzarella blend cheese, and tomato sauce

Apples, brie, cinnamon butter, and streusel - delicious dessert pizza!
Screen Pizza: Hand tossed dough baked on a pizza screen.
Roasted tomato, marinated mozzarella, and olive oil on hand tossed dough and screen baked.

Roasted garlic oil, plum tomatoes, roasted crimini mushrooms, buffalo mozzarella, provolone
Pan Pizza: Hand pressed dough cooked in an aluminum deep dish.
Roast sirloin, russet potatoes, garlic asparagus, sun-dried tomato pesto, and MSU dairy curds

Classic meat-lovers with marinara, pepperoni, sausage, ham, mozzarella, provolone
Comal Pizza: Hand stretched dough, grilled and baked in a comal pan (clay or cast iron flat griddle).
Roasted Pico de Gallo, grilled zucchini, salsa verde, queso fresco, and mozzarella blend cheese

Roasted chicken, roasted poblano, chipotle aioli, queso chihuahua, cilantro
Grilled Flatbread: Rolled dough cooked directly on the grill
Sambal oleek, roasted tomatoes, caramelized red onion, goat cheese
What's your perfect pizza? Experiment and keep experimenting. Perfection may change from time to time.
Abi Smith, Dietetics Student, Class of 2018
Updated by Kelly Stuhldreher
Related Articles
More Food and Nutrition Articles